GS Artists are delighted to announce that our next Artist at Work,  from 17th July- 25th Sept, 2021 will be Melissa Rodrigues, a Swansea-based artist, who was born in Guinea Bissau and trained at UWTSD Swansea College of Art .  Rodrigues works with various mediums and materials, painting, stencil printing, and photography. Fabric playing a special role in more recent work, due to its complex entanglement with themes present in the work, such as culture, history, identity, colonialism, power dynamics and one's sense of self,  particularly concerning ethnic origin.  The 'Artist At Work' opportunity offers supported use of the gallery to create and exhibit new work. It was devised initially to make use of the gallery between shows,  commencing unofficially, then became part of the program, with Craig Wood in January 2017,  Via social media and events we follow the journey, and The 'outcome' of the process has concluded with events, films, talks, publications & discussions, & exhibitions. This opportunity launched in 2017 with Craig Wood, has included; Cecile Johnson Soliz, Rose Davies, Joan Jones, Tim Davies, Sarah Poland, Owen Griffiths, Melissa Rodrigues & Heledd Evans.
Melissa says of the opportunity:
"For this residency my focus will be in exploring culture having into account geographic and historical aspects of a specific fabric, wax print, also known as (African print fabric), as well as a traditional and locally hand-made fabric from Guinea Bissau called (Panu di pinti).
My purpose will be to creatively reflect about myself as cultural being and identify figures, words, or symbols that resonate with me culturally. Fabric holds the special power of connecting people and latitudes as distant as Kenia and Scotland or Indonesia and Ghana, all due to its massive political, economic, and central importance.
This residency is a great opportunity for me, being an artist, who is a recent mother and will have the possibility to work at GS Artist Swansea with my nine months old baby for the entire duration of the residency.
This will allow for more time to be productive and create new artwork resting assured that my baby is in a safe environment, and I simultaneously have  enough time to focus , reflect and produce work.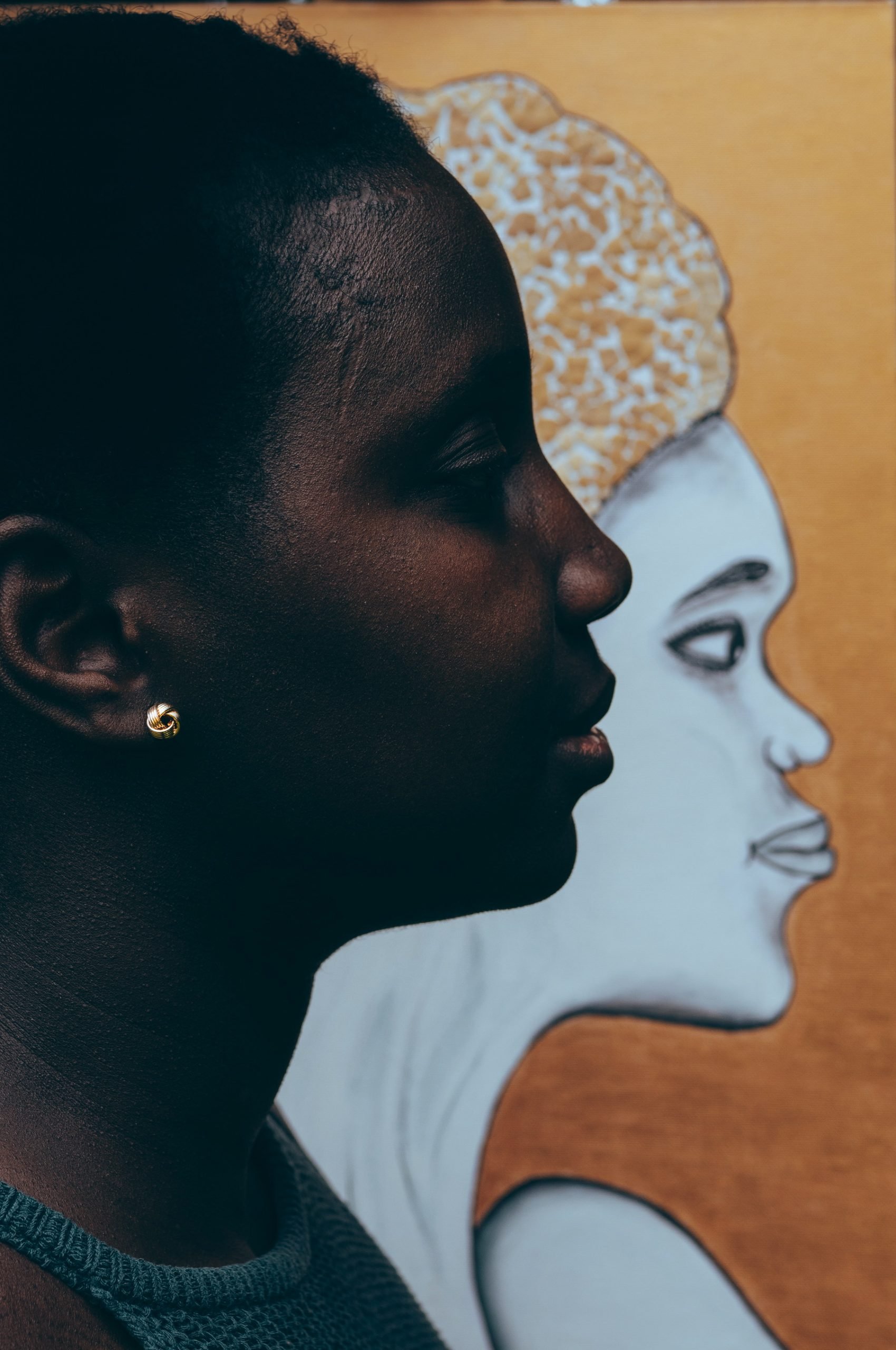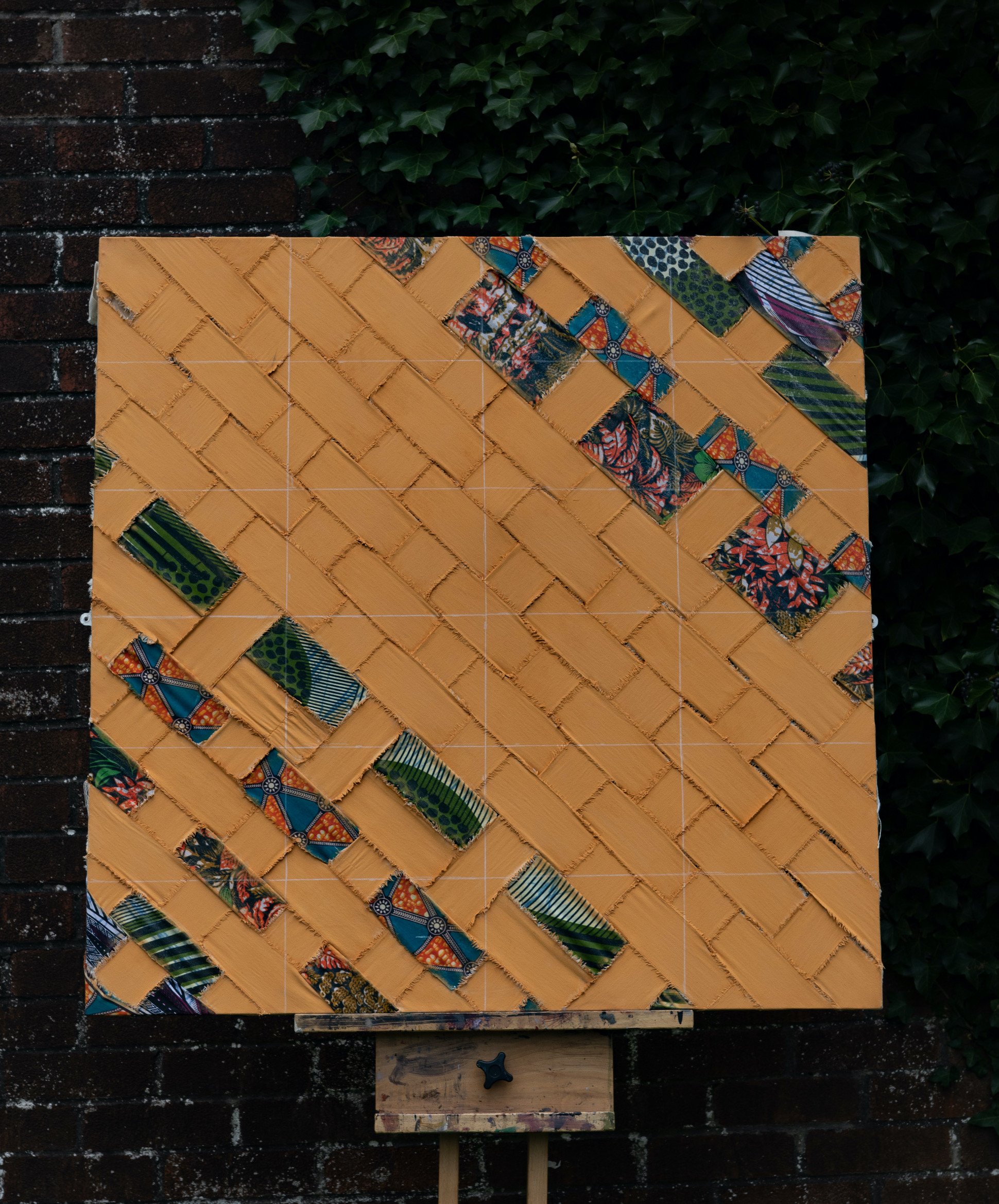 What are 3 key words that would describe your practice?
Identity, Culture, and Representation
Who has had an influence on your practice? Is there a favourite quote?
Yinka Shonibare, Seydou Keita, Abdulaye Konate, Grada Kilomba, Sidney Cerqueira, Carrie Mae Weems amongst others.
quote – James Baldwin "not everything that is faced can be changed, but nothing can be changed until it is faced."
James Baldwin "people are trapped in History and History is trapped in them."
What ideas do you want viewers to engage with through your artwork?
I want the viewer to familiarise themselves with the presence of the black body, and culture, in art spaces where western classic art is predominant.
What are the obstacles you face in the production of your art practice?
To produce my work I depend on people who are willing to come forward and strip themselves of insecurities. To share their personal stories with me as well as posing for my photos which are later turned into stencils. Not many people are willing to do that.
To whom do you go for help when you hit a block or have difficulties in your creative process?
Nobody really. I get a good part of my inspiration while reading history books or listening to artists of color pod-casts such as "Seeing Color".
Apart from being an artist what other jobs have you done?
So many, in Portugal I worked with children at summer camps, I also did customer assistance jobs in department stores, supermarkets, restaurants and in the UK I worked as a cleaner, a kitchen assistant in restaurants, picker, and packer in factories.
What new skills have you needed to learn for your artwork?
To use Adobe Illustrator and Photoshop for the preparation of my stencils to be laser cut, screen printing techniques, to cut out stencils by hand.
In your creative process, do you look into research outside of the art world? for example: sociology, politics, technology
All the time, my research is very related to fields like History, Sociology, Cultural Studies, and at times science also comes in handy to better understand concepts I am presented with in my research.
In what areas outside of the art world would you like to collaborate in the future?
Cultural Studies
Could you describe the role of art in the future in 3 words or phrases? for example, social and conceptual engagement
I believe that creativity is inherent to the human being, and I believe that what the human being will slowly lose is spontaneity and the freedom to be creative. Therefore the role of the arts in the future, I hope, will be to rescue that creativity and spontaneity and bring it to the surface in people's life. Can you tell me about the role of the fabric in your art?
Textiles gained the importance that it currently holds in my practice when I first researched the relationship between materials and Cultural identity, and at the time had a completely different understanding of the commonly called "African Print", (Wax- Print).
I used to perceive this material as unarguably representative of "African culture" (as if such a thing could exist). How could a material simultaneously represent the culture of 54 culturally diverse countries?
Well, I researched the origins of this material and found out that it was originally mass-produced by the Dutch who basically tried to copy an Indonesian fabric-making process (in which wax is used to obtain brighter colours) as well as their patterns.
The idea was to commercialise these to a European clientele, although being faced with the failure of their endeavour in the '70s, the Dutch decided to turn to their previous colonies in West Africa, which were now independent countries.
Introducing these fabrics into the West African market, if successful, could create a profitable commercial relationship between the Dutch and West African Countries.
In this respect, the bold coloured fabric was widely well accepted in the West-African market and as a result, the Dutch producers of wax print adapted the pattern on fabrics to resemble imagery of West-Africa's day to day life.
90% of the production was kept in the Netherlands and nearly 100% of the clients live in the African continent or in its diaspora.
The Dutch are not the only producers of wax print nowadays but still lead its production and distribution worldwide.
After learning the history, I realised textile plays such an important role in our self-understanding as cultural beings and decided to research more about other fabrics, including the most important one in my personal life (panu di pinti) and that is what I am working with for this residency.
The photos below: I took a couple of years ago, the female model is wearing a wax print fabric and the male model is wearing a Panu di pinti fabric.
Thank you so much Melissa! For taking us on such an informative and fascinating journey into your process
Anja Stenina
GS Artists
04 Sept 2021