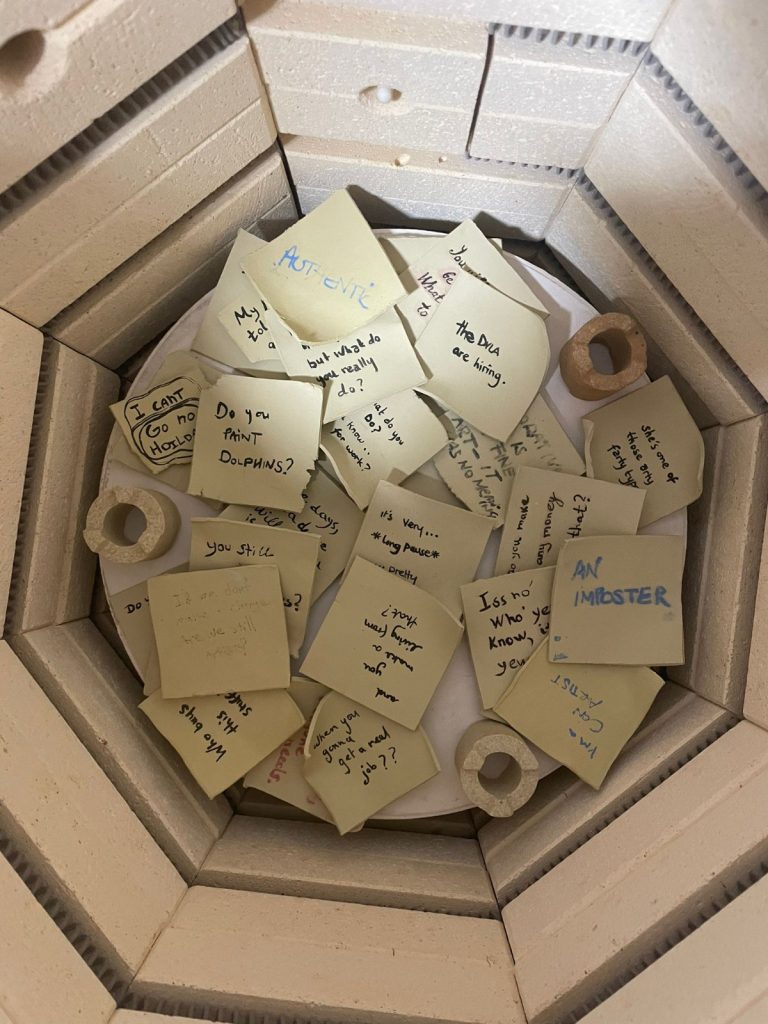 Post-it Notes project by Rakumancy Artist Triad, 2023
Indirect Direct Access: Ethics of Speaking, Looking, Knowing and Touching.
Two Venue opening on the 13th of October:
Stiwdio Griffith (Swansea College of Art) at 4 PM
GS Artists at 6 PM
Show open: 13-28th of October
(GS Artists) Wed-Sat 12-4 pm
(Stiwdio Griffith ) Mon- Fri 10-5pm
This is a two-venue collaborative exhibition between GS Artists and Swansea College of Art, curated by Anja Stenina and Claire Francis. The show is located across Stiwdio Griffith in Swansea College of Art and GS Artists Gallery. The exhibition curates social commentary, socially engaged practice, poetry and film to highlight the critical role of art in reframing our social imagination. The show invites you to confront the uncomfortable, explore the unspoken, and engage in a dialogue about the ethical dimensions that affect us every day. This exhibition serves as a profound exploration of the hidden corners of our everyday lives, unpacking the mundane political and ethical discourses that often remain unspoken. It's an invitation to question the assumptions that underpin our society, and to engage in critical conversations that are frequently avoided. In a world where some conversations are difficult to broach, this show seeks to transcend those barriers by communicating these complex topics through the language of art. The show invites you to explore the limits of what is commonly discussed, offering a unique opportunity to delve into the heart of issues that are often relegated to the shadows.
As you navigate through the exhibition, you'll find yourself traversing the uneven terrain of mundane ethics, where common sense is not always what it seems. The art on display (in the form of film, social commentary, installation, poetry and sculpture) will act as your guide, illuminating the subtle nuances and unsettling truths that often lie beneath the surface of our cultural myths. It's a journey through the uncharted territory of our collective ethics and a testament to the power of art to provoke, question, and reframe our social imagination. This exhibition promises an experience that will leave you both uncomfortable and enlightened, inviting you to engage in the essential dialogue of our time.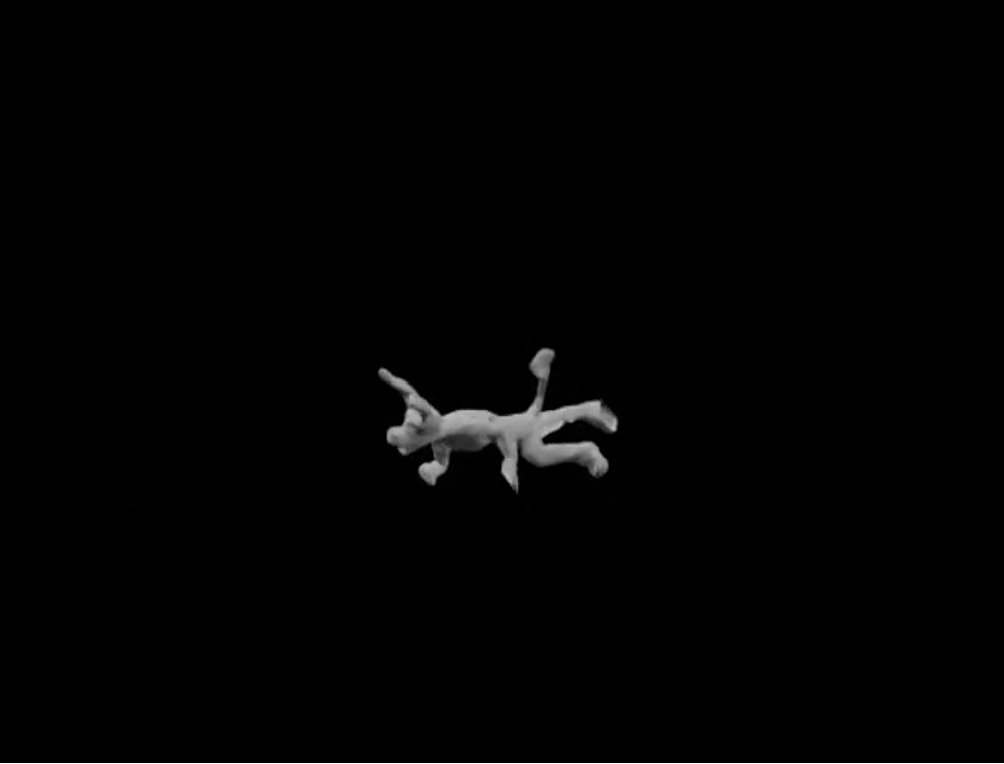 Film still, The Mule Story, Anja Stenina, 2023
Indirect Direct Access: Ethics of Speaking, Looking, Knowing and Touching
Agoriad dau leoliad ar y 13eg o Hydref:
Stwdio Griffith (Coleg Celf Abertawe) am 4 PM
GS Artists am 6 PM
Sioe ar agor: 13-28 Hydref
(GS Artists) Mercher-Sad 12-4 pm
(Stwdio Griffiths) Llun-Gwener 10 -5 PM
Wele arddangosfa dau leoliad ar y cyd rhwng GS Artists a Choleg Celf Abertawe, wedi'i guradu gan Anja Stenina a Claire Francis. Bydd y sioe yn digwydd rhwng Stiwdio Griffith yng Ngholeg Celf Abertawe ac Oriel GS Artists. Mae'r arddangosfa'n dod â sylwebaeth gymdeithasol, ymarfer cymunedol, barddoniaeth a ffilm at ei gilydd i bwysleisio safle allweddol celf yn y broses o ailfframio ein dychymyg cymdeithasol. Mae'r sioe yn ein gwahodd i fynd i'r afael â'r hyn sy'n ein hanesmwytho, archwilio'r hyn nas dywedir, a chyfranogi mewn deialog ynglŷn â'r cwestiynau moesol sy'n ein heffeithio bob dydd. Mae'r arddangosfa hon yn archwilio'n drylwyr gorneli cudd ein bywydau beunyddiol, gan ddadbacio'r disgyrsiau gwleidyddol a moesol bob dydd nas trafodir yn ddigon aml. Dyma wahoddiad i gwestiynu'r rhagdybiaethau sy'n sail i'n cymdeithas, ac i fod yn rhan o sgyrsiau beirniadol a osgown yn aml. Mewn byd lle mae'n anodd cynnal rhai sgyrsiau, mae'r sioe hon yn ceisio torri drwy'r rhwystrau hynny drwy gyfathrebu am bynciau cymhleth drwy gyfrwng iaith celf. Mae'r sioe'n ein gwahodd i archwilio terfynau trafodaethau cyffredin, gan gynnig cyfle unigryw i gloddio at galon materion sy'n aml iawn yn cael eu gwthio i'r corneli.
Wrth i chi symud drwy'r arddangosfa, byddwch yn tramwyo ar hyd tir anwastad moeseg bob dydd, lle nad yw synnwyr cyffredin i'w gredu bob tro. Mae'r celf sy'n cael ei arddangos (ar ffurf ffilm, sylwebaeth gymdeithasol, gosodwaith, barddoniaeth a cherflunwaith) yn gweithredu fel tywysydd ar eich taith, gan daflu goleuni ar yr arlliwiau cynnil a'r gwirioneddau anesmwythol sy'n llechu o dan ein hanesion diwylliannol. Dyma daith drwy dir anghyfarwydd ein moeseg casglebol. Dyma arddangosfa sy'n destament o bŵer celf i herio, cwestiynu ac ailfframio ein dychymyg cymdeithasol. Dyma arddangosfa sy'n addo bod yn brofiad fydd yn anesmwytho ac yn goleuo, gan ein gwahodd i fod yn rhan o ddeialog hanfodol ein hoes.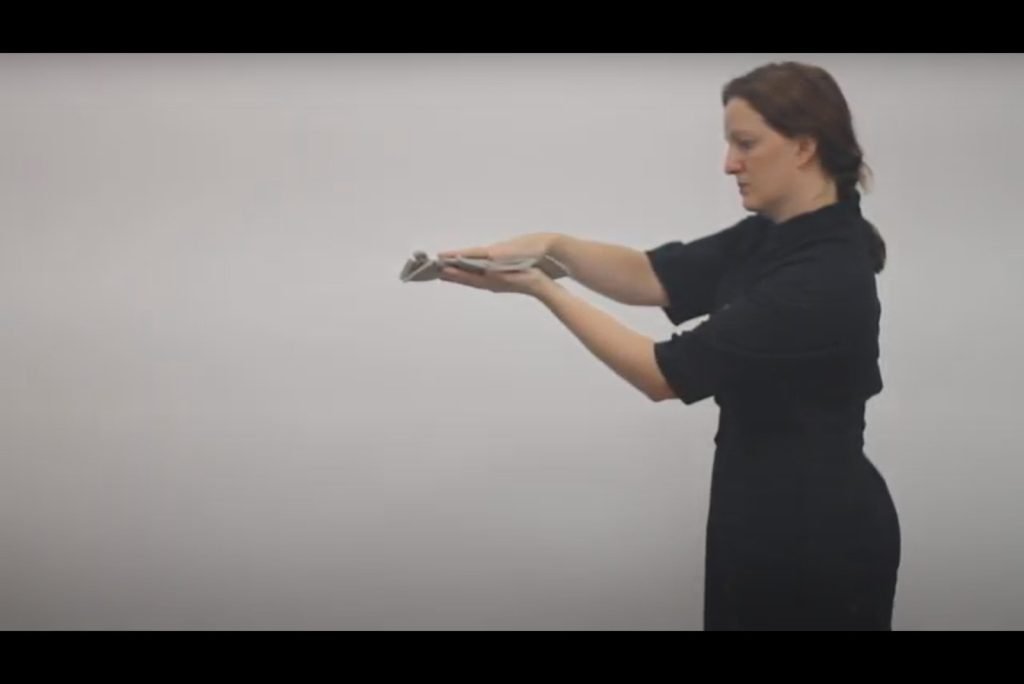 Film still, Forcing the Hand, Claire Francis, 2023
Anja Stenina is a conceptual artist and researcher. In her current PhD research, Stenina is developing Frictive philosophies – a practice-based set of theoretical frameworks and concepts that guide post-structuralist thought into more mechanical, dynamic spaces for the analysis and practice of art. In her work, Anja Stenina explores ethics of communication and ethics of knowing. She attempts to capture quotidian fleeting moments characterised by unknowing. She explores social situations in which common sense is not what it seems and when everyday mundane interactions take on a sinister aspect. The artist explores expressions of fear, doubt and self-approving superiority in relation to the speaking position in society. Anja portrays and experiments with the narratives, representations and metaphors of silencing in her films, mixed media artworks and 3D animation.
Claire Francis is a conceptual artist who explores the embodiment of social boundaries and manifestations of experiential knowledge and tangible / intangible heritage. Her work is an intellectual journey that navigates the complex territories of consent, damage, trauma, and the ethics that govern human touch, gaze, admiration, and exploitation. Claire looks at how we protect ourselves from that outside influence, how we hold our own space and stay present, connected and confident within our bodily vessels. She explores the processes of emotional microdamage and alternative environments of communication.
Esther Ley is an artist maker with over 20 years' experience making and teaching ceramics. Graduating in 1998 with a BA (hons) in Ceramics, her practice is very firmly grounded in participation, community and collaboration. Her own work is eclectic and generally has a social commentary element. Esther explores themes using moulds, hand building methods, decals and lustres. She currently works for the charity Crisis UK as Arts Coordinator. Instagram: @esther_ley_ceramic_art
Alina Skorohoda is a conceptual artist who works with the themes of domesticity, mental load, identity and gender. Her artwork is a thought-provoking exploration of the intricate concept of a woman's duty to the world and the unspoken mental load that often accompanies it. Her work is a response to the pervasive feelings of obligation that haunt women across different cultures and societies, including the burden of managing the often invisible but relentless mental load. She transforms domestic objects into powerful symbols, thereby challenging societal norms, fears, and unspoken rules that have contributed to a sometimes hostile environment for women and shaped their behaviour within it. Her work invites viewers to engage in critical conversations about gender, identity, and the social constructs that shape our lives.
Darren Cullen is a satirical artist, illustrator and writer, born in Leeds to Irish immigrant parents and currently based in London. Cullen initially thought he wanted to go into advertising as a career, studying it at Leeds College of Art where he learned the language and techniques of the medium but became steadily horrified at the ethical implications involved. Claiming that "manipulating the desires and aspirations of the public, and especially children, using an arsenal of sophisticated and emotionally damaging psychological techniques is an appalling way to make a living and an even worse way to sustain an economy." Cullen abandoned advertising to study Fine Art at Glasgow School of Art. He now uses the language of advertising to make work about the empty promises of consumerism and the lies of military recruiters. In 2019 he co-curated the Museum of Neoliberalism with Gavin Grindon and opened it to the public in south east London. Website: www.spellingmistakescostlives.com
Dr Gemma June Howell is a grass-roots activist, editor, writer, poet and academic. Gemma has a PhD in Creative & Critical Writing from Swansea University. Underpinned with critical theory, her research focuses on the lived experiences of working-class women. Gemma June Howell's gritty and honest poetic voice has challenged literary norms in Wales. Her passion for politically-forthright poetry is firmly rooted in her commitment to the Red Poets Society, where at the age of 16 she shared her work in the bygone social clubs and pubs of the Southern Valleys. Her voice is gritty and sparse, compassionate and sometimes shocking but always authentic and true to her Valley roots." Alan Perry, Poet. https://www.gemmajunehowell.com
Welsh artist, SLUG has been producing graffiti for 10 years, leaving his mark on urban decay throughout the UK. Inspired by the repulsion people feel towards slugs and the similar emotions often felt towards graffiti, SLUG celebrates people's disdain for his mark. In a world that often looks past the beauty in decay, Slug reminds us all that there is life, art, and meaning to be found in the rot.
Rufus Mufasa is a pioneering participatory artist, literary activist, poet, rapper, singer songwriter, theatre maker, and last but not least, Mother. From Barbican Fellow to the first Future Generations Act Poet in Residence, Rufus also works internationally, securing literary residencies from Hay Literature Festival to Sweden, Finland, Indonesian, and most recently Zimbabwe, but always returns to People Speak Up in Llanelli, Wales, promoting hip hop education, performance poetry and intergenerational development. Rufus' work explores motherhood, the spirituality of ancestry, class, climate chaos, and transgenerational/trapped trauma. She was an artist at Hull '19 in collaboration with BBC Contains Strong Language. Her complete poetry collection was released in 2021, titled 'Flashbacks and Flowers,' and is available through Indigo Dreams. Additionally, her second album is set to be released soon. www.rufusmufasa.com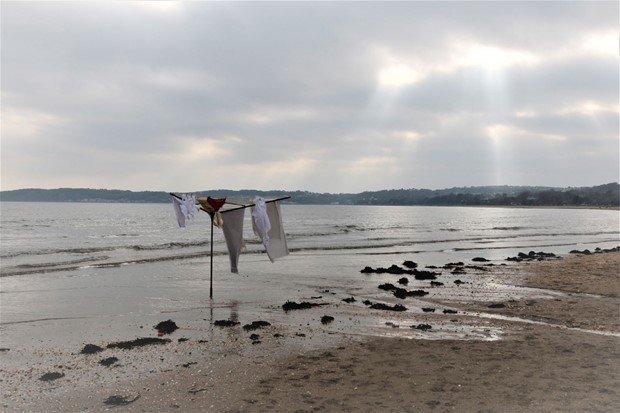 Film still, Mental Load, Alina Skorohoda, 2023
Artist cysyniadol ac ymchwilydd yw Anja Stenina. Yn ei hymchwil PhD, mae Stenina yn datblygu athroniaethau Ffrithiol – cyfres o fframweithiau a chysyniadau damcaniaethol ymarferol sy'n mynd â'r meddwl ôl-strwythurol tuag at ofodau mwy mecanyddol, deinamig ar gyfer dadansoddi ac ymarfer celf. Yn ei gwaith, mae Anja Stenina yn archwilio moeseg cyfathrebu a moeseg adnabod. Mae'n ceisio dal gafael ar ennydau bob dydd sydd wedi'u nodweddu gan beidio adnabod. Mae'n archwilio sefyllfaoedd cymdeithasol lle nad yw synnwyr cyffredin i'w goelio bob tro, ac achlysuron pan fo elfennau sinistr yn meddiannu sgyrsiau bob dydd. Mae'r artist yn archwilio mynegiannau o ofn, amheuaeth ac uwchraddoldeb hunanfodlon mewn perthynas â'r safle siarad o fewn cymdeithas. Mae Anja'n portreadu ac yn arbrofi gyda naratifau, cynrychioliadau a throsiadau'n ymwneud â thawelu yn ei ffilmiau, gweithiau celf cyfrwng cymysg ac animeiddiadau 3D.
Artist cysyniadol yw Claire Francis sy'n archwilio ymgnawdoliad ffiniau cymdeithasol a mynegiadau o brofiad bywyd, yn ogystal â threftadaeth cyffyrddadwy ac anghyffyrddadwy. Taith ddeallusol yw ei gwaith sy'n mynd at dir cymhleth cydsyniad, niwed, trawma, a'r moeseg sy'n llywodraethu dros gyffyrddiad dynol, trem, edmygedd ac ecsbloetio. Mae Clare yn ystyried sut yr awn ati i amddiffyn ein hunain rhag y dylanwad allanol, sut yr ydym yn cynnal ein gofod ein hunain, gan ddal gafael ar ein presennol, ein hyder a'n cysylltiad â'n cyrff. Mae'n archwilio prosesau meicro-niwed emosiynol ac amgylcheddau cyfathrebu amgen.
Artist a gwneuthurwr yw Esther Ley â chanddi dros 20 mlynedd o brofiad yn creu serameg ac yn dysgu eraill sut i'w greu. Wedi graddio yn 1998 gyda BA (Anrh) mewn Serameg, mae ei hymarfer wedi'i wreiddio'n ddwfn mewn cyfranogiad, cymuned a chydweithio. Mae ei gwaith hithau yn amrywiol dros ben ac yn meddu, fel arfer, ar elfen o sylwebaeth gymdeithasol. Mae Esther yn defnyddio mowldiau, dulliau adeiladu â llaw, decalau a lystar fel cyfrwng i archwilio ei themâu. Mae'n gweithio fel Cydlynydd Celf elusen Crisis UK ar hyn o bryd. Instagram: @esther_ley_ceramic_art
Artist cysyniadol yw Alina Skorohoda sy'n archwilio themâu'n ymwneud â bywyd cartref, llwyth meddyliol, hunaniaeth a rhywedd. Mae ei gwaith yn archwiliad meddylgar o'r cysyniad cymhleth o ddyletswydd menyw yn y byd a'r llwyth meddyliol tawel sy'n aml yn mynd law yn llaw â'r ddyletswydd hon. Mae ei gwaith yn ymateb i'r teimladau ymwthiol o rwymedigaeth sy'n aflonyddu menywod ar draws diwyllianau a chymdeithasau, gan gynnwys y baich o reoli'r llwyth meddyliol didrugaredd, anweledig. Mae'n trawsnewid gwrthrychau'r cartref yn symbolau pwerus, gan herio'r arferion, ofnau a rheolau cymdeithasol anweledig sydd wedi cyfrannu at amgylchedd annifyr i fenywod ac wedi siapio eu hymddygiad oddi mewn iddo. Mae ei gwaith yn gwahodd y gwyliwr i gymryd rhan mewn sgyrsiau heriol am rywedd, hunaniaeth a'r strwythurau cymdeithasol sy'n siapio ein bywydau.
Artist, arlunydd a sgwennwr dychanol yw Darren Cullen, wedi'i eni yn Leeds i rieni Gwyddelig, ac mae yntau bellach yn byw yn Llundain. Yn wreiddiol dymunai Cullen ddilyn gyrfa mewn hysbysebu, gan ei astudio yng Ngholeg Celf Leeds lle y cafodd addysg am iaith a thechnegau'r cyfrwng, ond yn raddol bach cafodd ei frawychu gan oblygiadau moesegol y gwaith. Honna fod "manipiwleiddio dyheadau a gobeithion y cyhoedd, ac yn enwedig plant, gan ddefnyddio cruglwyth o dechnegau seicolegol soffistigedig sy'n niweidiol yn emosiynol yn ffordd erchyll i wneud bywoliaeth, ac yn waeth byth, fel ffordd o gynnal economi." Ymwrthododd Cullen â hysbysebu er mwyn astudio Celf Gain yng Ngholeg Celf Glasgow. Mae bellach yn defnyddio iaith hysbysebu i greu gwaith ynglŷn ag addewidion gwag prynwriaeth a chelwyddau recriwtwyr milwrol. Yn 2019 cyd-guradodd y Museum of Neoliberalism gyda Gavin Grindon a'i agor i'r cyhoedd yn ne ddwyrain Llundain. Gwefan: www.spellingmistakescostlives.com

Ymgyrchydd, golygydd, sgwennwr, bardd ac ysgolhaig llawr gwlad yw Dr Gemma June Howell. Mae gan Gemma PhD mewn Ysgrifennu Creadigol a Beirniadol o Brifysgol Abertawe. Gyda theori beirniadol fel seilwaith, mae ei hymchwil yn canolbwyntio ar brofiadau byw menywod dosbarth gweithiol. Mae llais barddonol amrwd a gonest Gemma June Howell wedi herio normau llenyddol yng Nghymru. Mae ei hangerdd dros farddoniaeth amlwg-wleidyddol wedi'i wreiddio'n ddwfn yn ei hymrwymiad i'r Gymdeithas Beirdd Coch (Red Poets Society), lle rhannodd ei gwaith yn 16 oed yng nghlybiau cymdeithasol a thafarndai Cymoedd De Cymru gynt. "Mae ei llais yn amrwd a gwasgaredig, trugarog ac weithiau'n peri sioc, ond mae bob tro'n cyfeirio at ei gwirionedd ac yn driw i'w gwreiddiau yn y Cymoedd." Alan Perry, Bardd. https://www.gemmajunehowell.com
Mae'r artist o Gymru, SLUG, wedi bod yn cynhyrchu graffiti am 10 mlynedd, gan adael eu marc ar ddirywiad dinesig ar draws y DU. Wedi'u ysbrydoli gan y ffieidd-dod mae pobl yn ei deimlo tuag at wlithod a'r emosiynau tebyg sy'n aml yn cael eu cyfeirio at graffiti, mae SLUG yn dathlu'r atgasedd mae pobl yn ei deimlo tuag at eu gwaith. Mewn byd sydd weithiau'n edrych y tu hwnt i harddwch dirywiad, mae SLUG yn ein hatgoffa ni oll fod bywyd, celf ac ystyr i'w canfod yn y pydredd.
Artist cyfranogol arloesol yw Rufus Mufasa, sy'n ymgyrchydd llenyddol, yn fardd a rapiwr, yn gantores-gyfansoddwraig a gwneuthurwr theatr, ac yn olaf ond nid yn lleiaf, yn Fam. O fod yn Gymrawd Barbican at fod yn Fardd Preswyl Cyntaf Deddf Cenedlaethau'r Dyfodol, mae Rufus yn gweithio'n rhyngwladol, gan lwyddo i sicrhau preswylfeydd llenyddol o Ŵyl y Gelli hyd at Sweden, Y Ffindir, Indonesia ac yn fwyaf diweddar Zimbabwe, ond mae bob tro'n dychwelyd at People Speak Up yn Llanelli, Cymru, i hyrwyddo addysg hip hop, barddoniaeth perfformio a datblygiad rhwng y cenedlaethau. Mae gwaith Rufus yn archwilio bod yn fam, ysbrydolrwydd tras teuluol, dosbarth cymdeithasol, chwalfa hinsawdd, a thrawma traws-genhedlaethol/sownd. Roedd hi'n artist yn Hull '19 mewn cydweithrediad â BBC Contains Strong Language. Cafodd ei chasgliad barddoniaeth cyflawn ei ryddhau yn 2021, yn dwyn y teitl 'Flashbacks and Flowers', ac mae ar gael drwy Indigo Dreams. Yn ogystal, disgwylir i'w hail albwm gael ei ryddhau'n fuan. www.rufusmufasa.com