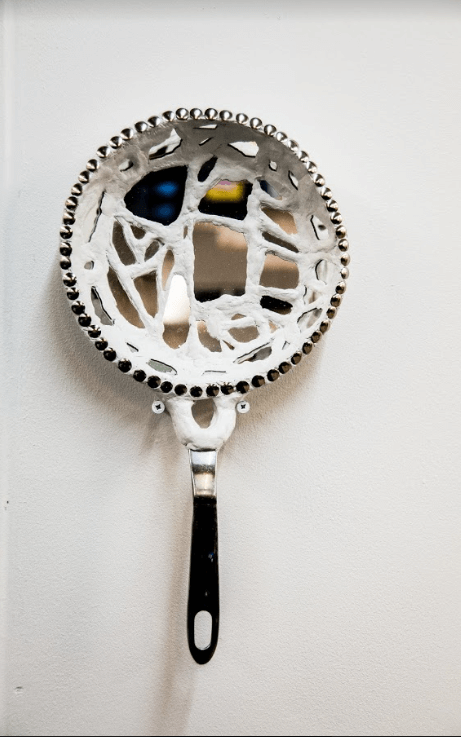 Alina Skorohoda's artwork explores the notion of woman's duty to the world. She responds to the feelings of obligation that haunt women everywhere, using domestic objects in her work; through altering these objects, she questions attitudes, fears and unwritten rules which have formed a hostile environment for women and their behavior within it, and the division between private (domestic) and public spheres.
She explores the problem of the lack of health warnings around the marketing of products dangerous to women's health. Using heavy materials she creates a feel of heaviness to visually represent the heaviness and burden of wearing stereotypical women's clothing and shoes. These objects are not everyday wear but the tools for social communication that are worn to impress, not for comfort.
Her work focuses on the unfamiliar term "topophobia" in relation to domestic space, referring to a fear of a specific space; in the context of this practice the fear of place is examined through feminist art practice which explores the power structures within domestic situations.
She employs the phrase 'mental load' as a means to describe the increasing pressure on female identity to strive for both equality and the feminine ideal. The phrase mental load has culturally been used to describe the mental pressures males experience at work and therefore appropriating this phrase becomes an interesting method to deconstruct this patriarchal association.
Skorohoda's works use mixed media, video, installation, and everyday housekeeping objects to evoke the burden of meeting the expectations from others of stereotypical female appearance and behaviour.
Through Alina's skillful work, particularly in photography and film, I can experience the feelings of being ethereal, unreal, ghostly, filled with foreboding, carrying strain yet barely existing, gliding through a world where everyone seems busy and there are so many tasks to do, so many places to go. Alienation and insignificance seem to be the lot of the woman, yet the connection to simple practical implements like brooms and mops anchor her in a world in which she barely belongs and from which she may not be able to escape. Like the women she portrays, who venture across urban landscapes, country roads and wide seas, I can want to yell out, to take my own power, to act on the environment. But bound into the muted silence of my own existence, I will find satisfaction in the spirit-life. Not sure if this is the way Alina wants us to see her work – I suspect it can bear being viewed through different prisms. I like particularly the way the sea comes into the foreground, the incoming tide resplendent no doubt with symbolic meaning.
Rhoda Thomas, poet