GS Artists are completing their 6 month long focus on the Political in Art with a solo show of JAMIE REID's Political Works 1970-2020, curated with John Marchant.
Reid (1947) is an iconoclast, anarchist, punk, hippie, shit-stirring rebel & romantic. Infamously and eternally connected with the Sex Pistols and the DIY ethic of punk, Reid grew up in suburban Croydon. After a stint as a semi – professional footballer and gardener, Reid co-founded an independent, agit-prop press group called Suburban Press, were Reid honed his skills with scalpel, glue and Xerox machine to create punchy graphics that looked as good on bedroom walls as in the papers.
Reid and McLaren knew exactly what they were doing with the Pistols. It was a smash and grab raid. It was intelligent, funny, violent and essentially Romantic. It couldn't last, and following the untimely and ugly death of punk, Reid decamped to Paris to escape the misery. Penniless, he convinced Polydor France to buy his songs, or rather the rapidly recalled lyrics to traditional Irish rebel ballads. Returning to Brixton in time for the riots of 1981, Reid started visual work again end of the 80's saw Reid acknowledged as an important contemporary artist, as an integral part of Iwona Blaswick and Elizabeth Sussman's influential survey of the Situationist Internationale.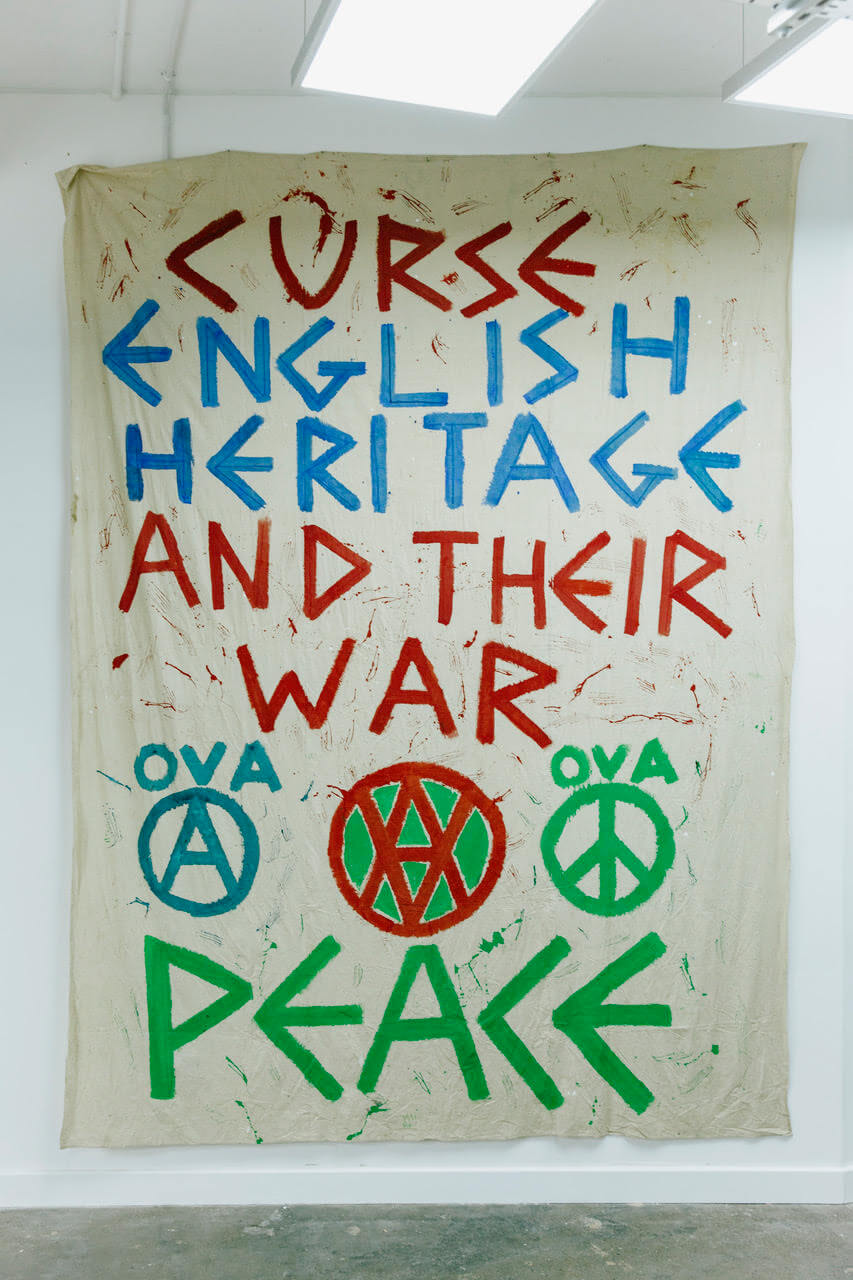 Still actively and activist, throughout the 90's Reid was engaged with protest movements – No Clause 28, Greenpeace, for the Anti-Poll Tax Alliance against, the Criminal Justice Bill, against English Heritage… From 2010, Reid has continued his involvement with important protest groups, like Occupy, Pussy Riot and most recently Extinction Rebellion. Always moving forward, always quick with a contrary opinion, and forever the free thinker, Reid is now an integral part of a wonderful community enterprise in Toxteth, called the Florence Institute. Part art space, part community kitchen, part refugee resource and part refuge, the Florrie is a manifestation of Jamie's dearest interests. Florrie it is in this human warmth and compassion where Jamie's greatest strengths as an artist lie, and what he wants to do more than anything is to encourage others to fulfil their potential. And that's Punk. (John Marchant)
The Show will continue till March 1st. On Saturday February 22nd we will host a slide show and in conversation with co-collaborator, punk, historian and broadcaster Rhys Mwyn. More details on booking to come soon…
We are also celebrating this show by co-publishing a limited edition print, "Dragons Revenge" a re -worked version of his album cover for Rhys Mwyn's band -Anhrefn. An A3 Screen Print (with hand-collage details), in an edition of 75, exquisitely produced by Rose Davies at the Swansea Print Studio. More on our website soon. www.galeriesimpsonswansea.com/store/