Download the full Craig Wood In Conversation with Fiona Banner PDF here.
Following is a section of one of the studio conversations recorded by the artists and transcribed at their discretion. The venue was Bethel Chapel (Craig's studio) on April the 7th, 2019.
Craig Wood These are these early polythene water pieces that I made.
Fiona Banner Oh yeah, you were talking about them.
CW Which kind of put me into the installation world, using architecture as the context. They mirrored the format of the floor.
FB Where is that?
CW That's in the crypt of St. George's Church in Bloomsbury.
FB Wow! That was way before you had the chapel?
CW Yeah. So, I've always had a little bit of a sort of atheistic love of ecclesiastical buildings. That was a sort of breakthrough piece, because from being an object-maker at college I then used architecture as a context.
FB It's very beautiful. What is that material?
CW It's just ordinary wrapping polythene – like the stuff you get poly bags made from. It's very iconic.
FB But what have you done with it to make it solid?
CW I've heat-sealed it. It's full of water so it's not solid, it's liquid, with a stain in it.
FB How amazing! It looks beautiful.
CW And then I removed the stain, because I realised it was much more about these two materials. A kind of so-called organic, so-called natural material… like synthetic and non-synthetic.
FB Yeah.
CW That was Modern Medicine – the show after Freeze.
FB That was the big kind of BritArt… was that the thing that Damien [Hirst] organised that was like the beginning of that whole scene?
CW Freeze preceded this, which kind of kicked it BritArt off; Modern Medicine kind of consolidated it. This was in a biscuit factory (appropriately enough). When I see this image, I think of the smell of custard creams, because that's where they used to make custard creams. This was now reduced to a kind of conversation between plastic and water. At the end it was pumped out and the plastic was recycled. It's kind of very ephemeral.
FB And that was part of your thinking around the piece from the top – that it would disappear back into its natural state at the end?
CW Yeah. I think it was very much like, I was interested in the…
CW I was quite a conceptualist. I quite liked the political side of conceptual art, that it was non-marketable – or at least difficult to market.
FB And to then reconstitute the materials at the end…
CW Yeah, you just return back: the water goes down the drain; the plastic goes back to the company I bought it from, who could re-melt it and re-use it. But I wasn't like anti- the other artists in the show. I was thinking they do what they do; I do what I do. I wasn't extremely militant about it, that was just the way I was wanting work to be: ephemeral, site-specific.
FB But I think a lot of people use the word 'ephemeral' but they don't go so far as to actually disappear the materials back into their natural source at the end. So that's a very strong narrative around the work, a very strong attitude towards ephemerality. It's beautiful. Could you walk on that?
CW No, no. It was really fragile. So it had a lot of contradictions to what we think of as sculpture as well. Kind of more like ephemeral dressmaking the way it was made, because it was more like a stitching process with heat from patterns.
FB Did you make it yourself?
CW Mm-hmm.
FB Wow! If you made that now would it mean something different?
CW Hmm… yeah, I think so. I don't think I really understood or wanted to understand everything about it. At this stage it was still exciting me as to, 'Wow! I'm making this work. I don't really know it, but I'm intrigued by it.' I made maybe ten of these in different venues until I realised it was sort of repeating itself. Then I just stopped forever. And each time I made it I would kind of understand other aspects to it.
FB Would you remake it now if the right opportunity came up?
CW Part of me doesn't want to.
FB Why? Because it's a hassle?
CW Well, it's a hassle that kind of going back. But then having said that, we've just been at the Laugharne Weekend – musicians for example don't have any problem about playing their old sixties hits. And why not?
FB And what joy it is!
CW What joy it is. And why deny yourself that? I've always wanted to be going on and on, and move on and on, sort of restlessly looking for new excitement in art. But maybe I've reached a point where I will recap.
FB Would be nice to see that. But I'm just thinking that now we've all got to think about what an object means, what substance is, what material is, because the planet's sinking and, you know, there's a next generation. So, it's quite prescient work in that regard. And to me, looking at it now, it speaks to some of those things. But those things were obviously not on the agenda at the time for the common man.
CW They were around but they weren't as mainstream as they are now (or should be now).
FB We didn't realise about global warming and stuff like that so much. Or did you?
CW Yeah, I did. Because I remember in Edinburgh being really interested in… when I was young being interested in what was called the Ecology Party which was pre-Green Party. I remember when I was at school discussing with my mates their policy of having zero economic growth and thinking how exciting that was, and how you could make things better – that you could make better cars, better everything, better jobs – but you wouldn't be obsessed with the notion of constant economic expansion.
FB So it's anti-capitalist work?
CW Yeah, there's a lot of that in it. Or at least a really serious desire to fundamentally reform capitalism.
FB What's it called?
CW I was just about to say… I was just about to come out with a Marxist quote. It's not called anything; they were all untitled.
FB Okay. What's the Marxist quote?
CW I don't know!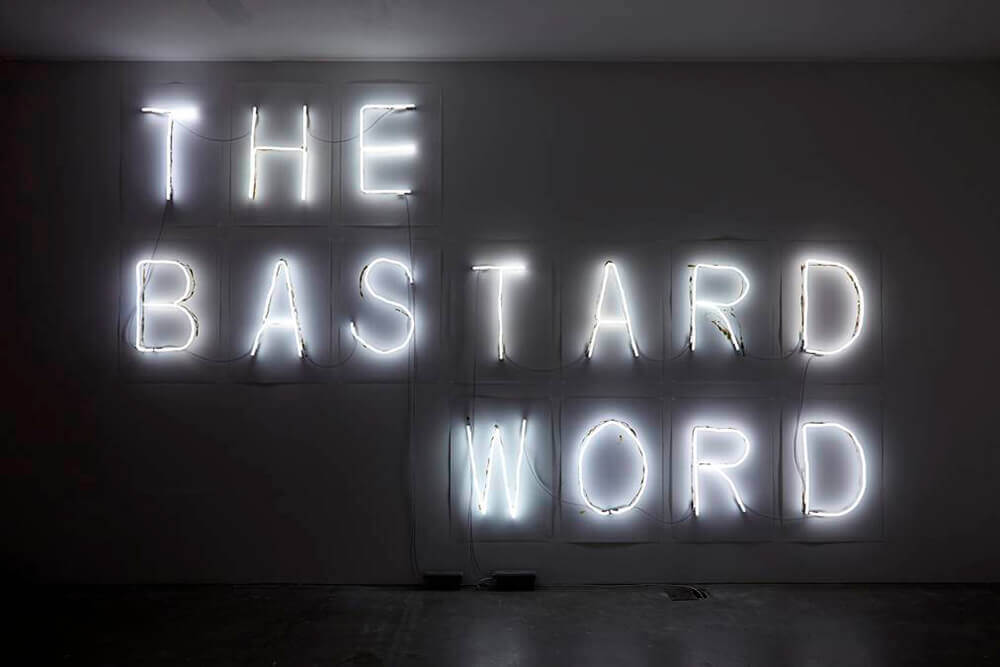 FB [Laughs] Add that one in later. Well it's very exciting to see… I mean my god they're beautiful!
CW They were sort of a really… they could burst like that. It was like putting a pin next to a balloon, it was almost tempting its own demise.
FB Is it always moving as well in some way?
CW If you touched it you would have a ripple bouncing backwards and forwards almost infinitely.
FB Awesome.
CW And so they're cut to almost the exact format of the slabs…
FB Right.
CW So the format of all these works are sort of determined by builders.
FB Yeah, who in turn are informed by the engineering…
CW Yeah, and the practicality of how much concrete you can cast…
FB How often you need a pillar…
CW How wide is the linoleum? – this little annoying cut.
FB So what are we looking at here? Because they are almost invisible these things.
CW This was a piece at Laure Genillard's gallery on Foley Street.
FB I wondered if it was – I sort of recognised that floor.
CW So it's like three big slabs with that one. Again using the format of the floor.
FB And does that create an impasse? Because it's then an area that you can't enter.
CW Exactly, yeah. Again this became much more of a sort of minimalist work, whereas the other ones had much more sort of poetic and phenomenological interpretations, as it became very cold in the gallery. I didn't do many in galleries; I didn't think they really worked. That was in Castello di Rivara in Italy – thousands of terracotta tiles going through this doorway into the back. You couldn't get into these rooms – some secret rooms that you could only see through the window.
FB Really? So, you made the installation in rooms where it couldn't really be seen?
CW Exactly. And it went through the whole floor of this castle. I put some ladders against the walls so from the outside you could peer in.
FB Oh, how lovely! I guess invisibility/visibility is sort of embedded in the project at large anyway. I mean water is this thing that is not…
CW I'll move on a bit. I used to work as an archaeological draughtsman, and in-between doing these installations I would do archaeological drawings of everything I was throwing out, every plastic object.
FB Really?
CW So that's like a little yogurt pot.
FB That's very satisfying.
CW So it's dot drawing. These are lines of dots.
FB Is this a physical drawing made with pencil?
CW Yeah, with Rotring.
FB Oh my god, the beloved Rotring.
CW This was a little piece I dug up. All of this stuff's really been dug up because I've been doing this publication. I haven't looked at any of this for years. So this is a piece I found that must have been a trowel. This is a Superdrug bleach bottle. So these were based on archaeological and architectural drawings… both jobs.
FB How do you make the dots so uniform?
CW It's almost like a meditation… to get my breathing right before I start.
FB My god! That's incredible! Because the spacing is so uniform as well.
CW I got better at it as well, actually.
FB Is this better? Is this not better?
CW No, no. I got to the point where I got ridiculously… What I tried to do was to record something in the most caring way of an object that gets the least care culturally, the thing that's in the bin after one second.
FB Did you show these alongside the water installation?
CW No. They were kind of another body of work that I introduced later, once I'd stopped the installations.
FB Quite cool that it's actually going to be seen alongside in the book, isn't it?
CW Yeah, I know. It's going to be incredible that.
FB Also, as I said before, I'm having to go back and look at all this after me kind of shutting it out. 'Next context, next project', you know? So now in my mind it's all sort of mixed up for the first time, because it's all been dug out to be collated and cleaned and classified and published. These are holes in the wall.
FB Now this work I have seen.
CW You might have seen that. This is Laure Genillard's gallery. She's down there. Remember that?
FB Yeah, I once had a drawing of a Chinook helicopter like there on that wall.
CW Yeah. That was probably the first time I saw your…
FB It was folded up like a map. I remember delivering it and it was A4 size and Laure was like, 'What the hell? I thought you were bringing me a like A0 drawing?' I said, 'Yeah, I am', and unfolded it. That's beautiful. So, tell me about the number.

CW These are the numbers… that's probably the code that's on the bottom of one of these bottles. It's like manufacturers' code, manufacturers' language, that we don't know what it means. They do… some batch numbers. It's ubiquitous but it's not our business to know, as it were.
FB That is quite scary in a way.
CW It is! And it's kind of funny that we've never challenged it or enquired. I remember phoning up a few times to ask what these numbers meant and was treated with massive suspicion. What does 'UN-3H1' mean? I still don't know to this day.
FB What does it mean? What does it mean in terms of the dent in the world and the contribution to the world? It's highly relevant, but it's all part of the invisible shit that we don't look at or think about.
CW Yeah, sort of multinational stuff. And we're probably putting these things on our bodies and in our bodies. They're very intimate some of these products: cleaning things and deodorants, and air fresheners I used a lot of.
FB Yeah, I remember that.
CW Isn't it funny, you know, you mentioning that drawing and folding maps? And looking at your work yesterday at the Laugharne weekend and seeing sort of connections with things that I was doing at the same time. But at the time I thought everybody was completely different. But now looking back I see sort of Rachel Whiteread's work or Marcus Taylor's, and I think, 'Oh yeah, we were all kind of very connected'.
FB There were concerns to that generation we weren't aware of.
CW I didn't see it at the time. Yeah, I thought everybody was working in their own unique ways. It's quite reassuring that, that things were connected. But I didn't see it at the time.
FB Yeah, it's quite a privilege to be in it for long enough and to be able to look back and see that.
Artist Biographies
Craig Wood was born in Edinburgh in 1960 and has been based in South Wales since 1982, where he initially worked as a draughtsman for Dyfed Archaeological Trust.     
He completed a Foundation Diploma at Dyfed College of Art, Carmarthen before studying a Fine Art BA at Goldsmiths College, London, in the late 1980's.
Wood was a part of the initial Young British Artists generation, exhibiting in shows such as Modern Medicine. His practice explores the spectrum of site specificity and collaboration.
Wood has been a recipient of the DAAD residency in Berlin and is a former Gregory Fellow with the University of Leeds. He has exhibited widely within the UK and abroad.
Currently he has a fractional post as Senior Lecturer in Conceptual Art at Swansea College of Art, UWTSD and continues to exhibit widely both nationally and internationally.
Fiona Banner
Born 1966, Merseyside, England
Fiona Banner aka The Vanity Press explores gender, collections, and publishing through a practice spanning forms as varied as drawing, sculpture, performance, and moving image. Her early work took the form of 'wordscapes' or 'still films' – blow-by-blow accounts written in her own words of feature films, (whose subjects range from war to porn) or sequences of events. These pieces evolved into solid single blocks of text, often the same shape and size as a cinema screen.
Banner later turned her attention to the idea of the classic, art-historical nude, observing a life model and transcribing the pose and form in a similar vein to her earlier transcription of films. Often using parts of military aircraft as the support for these descriptions, Banner juxtaposes the brutal and the sensual, performing an almost complete cycle of intimacy and alienation. Whilst her current work encompasses performance, sculpture, drawing and installation, text is still at the heart of Banner's practice. In 1997 she started her own publishing imprint The Vanity Press, which has been the backbone of her work ever since. Banner toys with the snobbery inherent in the title by publishing posters, books, objects and performances that deploy a playful attitude and utilise pseudo grandeur.
Banner came to prominence in the 1990s with her wordscapes, written transcriptions of iconic films retold in her own words. THE NAM (1997) is a 1,000 page book that details, scene-by-scene, six Vietnam War films — including Full Metal Jacket and Apocalypse Now — in such a way that they blur into each other. The outcome is, in the artist's words, the literary equivalent of a "gutting 11 hour supermovie".
In a recent collaboration with the Archive of Modern Conflict, Banner commissioned a Magnum photographer to take pictures of London's financial district as if it was a war zone. The resulting work uses Joseph Conrad's novel Heart of Darkness as a filter through which to read the tribal behaviour of those in the business of finance, an environment of weary survivalism combining competitive trading floors, corporate art collections, manic drinking cultures, luxury shopping and strip clubs.