By Jeremy Gluck for GS Artists
Anja Stenina's show 'You Know What I Mean', appealing to the intellect but also evading it, is apparently cerebral. Posing many questions beyond its name, the show embodies a fundamental challenge: You Know What You Are? The latest expression of a body of work that is as engaging as it is deceptively elusive, its theatrical and performance elements are grounded in an earthy and even sometimes matriarchal matrix, feeding back life, love and an arch wisdom and insight into the human condition.
Stenina's work, by turns literate, literal and articulated in popular tropes, in this case is cast in a low, blue light to emphasise its marine themes, and employing the renowned sea shanty, What Do We Do With a Drunken Sailor, as a platform for undermining and investigating assumptive perspectives. You Know What I Mean is, literally and figuratively, a delightful, compassionate and enlightened collision of ideas, light and Jungian shadows.
Anja, interviewed here, supplies context to what is a growing body of work deserving reflection.
GS Artists: Question one: What is question zero?
Anja Stenina: 'What should we do with a drunken sailor?' questioning the influence of the authority of collective judgement. The fundamental conceptual question is: how in control are you? It is a progression of my work in a wider sense that explores our relationship with society. That traces back to my BA Degree exhibition in 2016 'Are you in control?', where I explored how power structures manipulate us quite blatantly just below the superficial skin of our everyday lives. In the installation I would draw out the stage directions to life on the floor, but using invisible ink which could then be discovered, piece by piece, by the audience using black light torches. I also wanted to present the physical metaphor of the whole process – that the audience is surrendering themselves to my authority when they come in, yet they are still entirely in control of their lives – they always have a choice – they can turn the torch off at any point, or simply choose to stop following the instructions.
The revision within the Drunken Sailor song is an exploration between different standpoints. It specifically raises questions of judgement and morality, how opinions are arrived at and how often do people actually consider where their opinions are coming from. The idea connects to Barthes' idea of the encratic language of authority and to what goes without saying.
I employ a dialectical approach to create a reflective environment for the observation of shifts of perspective. I'm not passing judgement; I am just creating a space for the unpacking of ideas, locating elements of control.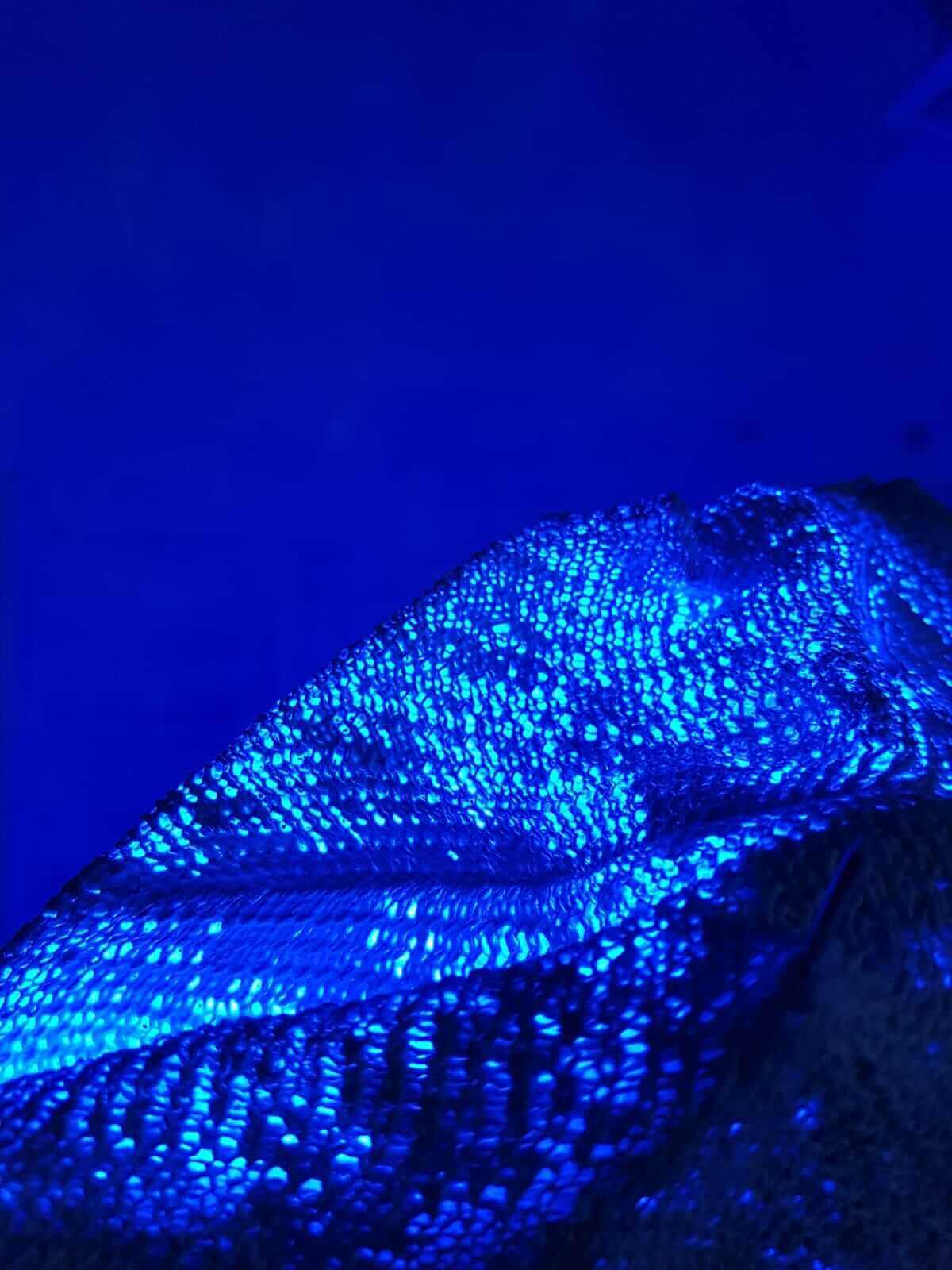 GS Artists: What are the chief elements of control?
Anja Stenina: Fashion and style. The style of social protocols and social rituals that are dictated by the dominant culture. With the metaphysical personifications of the Ages of Aquarius and Pisces, I am presenting two fashions, two standpoints. The viewer, therefore, is free to try on each of the ideological perspectives. My show is, basically, a changing room.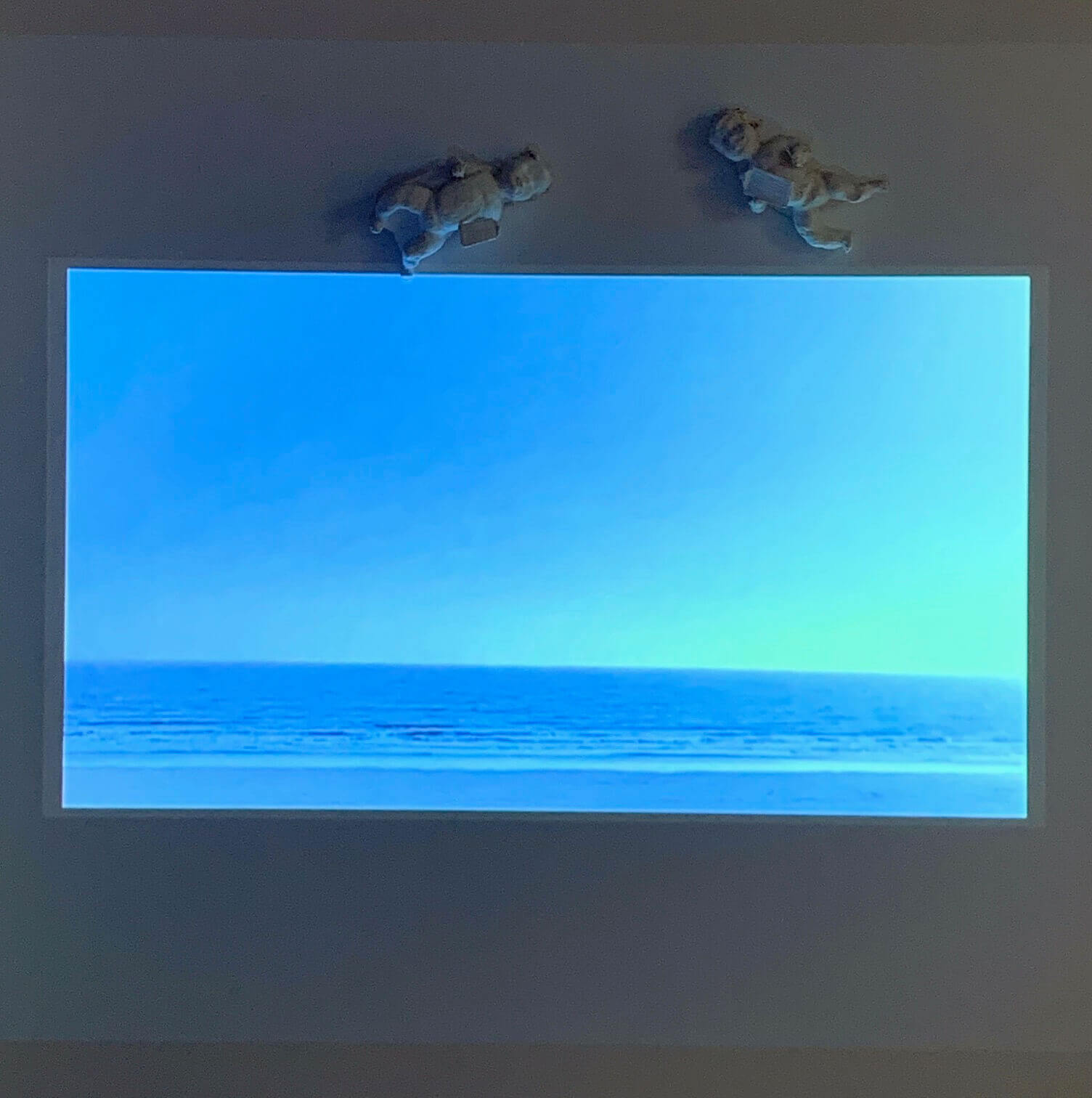 GS Artists: And in that room, what changes?
Anja Stenina: Who knows? It's a private space.
I would only hope that the fitting helps one to engage critically with the dynamic between opposing standpoints and that the naturalness/comfiness of a certain garment aka certain established social construction is reflected back to the visitor and perhaps the dominance of one style is questioned by the alterations of the new style. Dominant trends/positions can be switched to more transgressive standpoints. I've presented opposing cultural constructions for the individual to try on and I hope that, as with the dressing room mirrors, the reflective experience of the self 'wearing' the different forms can influence one's value judgments.
My work creates a potential space for change, it is the viewer's reflections in the dressing room that complete it.
GS Artists: What is this "self"?
Anja Stenina: The knower; the chooser of the outfits; the one that catches the reflection.
GS Artists: In the simplest language, starved of any elaboration, what is your practice and what is your art? Is it necessary?
Anja Stenina: I am a poststructuralist and semiotician in my process and I am a conceptual mixed media installation artist. I work with elements of morality. Is morality necessary? Necessity is a question for the critics.