GS Artists are delighted to announce – opening February 5th – April 2nd, 2022.
Open: Thursday-Sat 12-5pm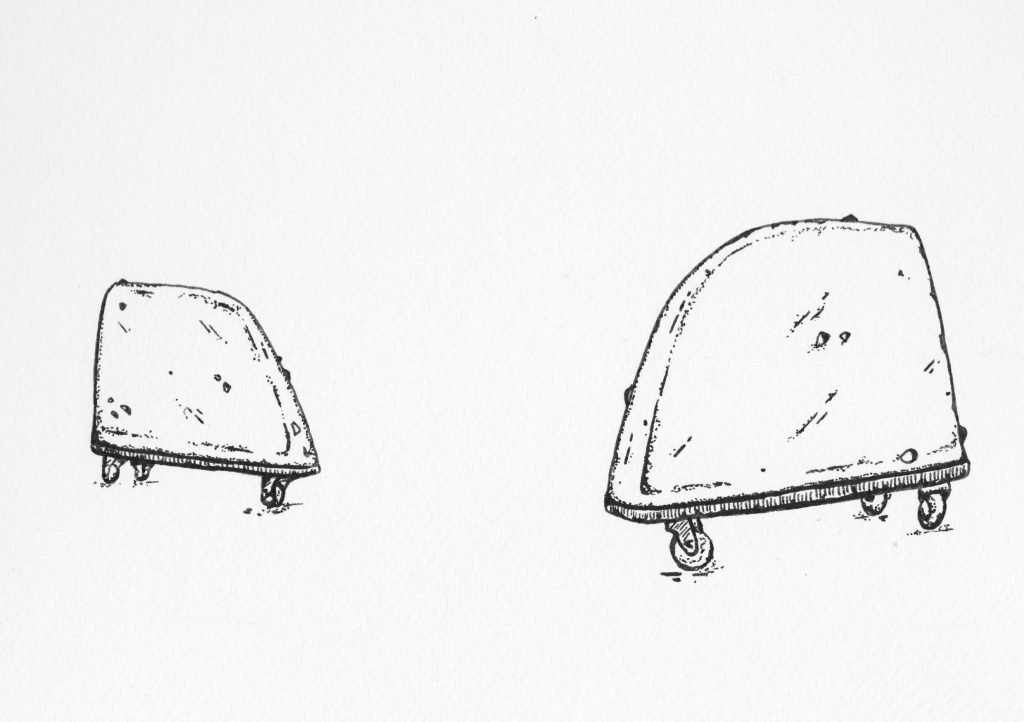 Hughes says about their work "Translated from Italian or Spanish Marea means the tide, or the movement of a body of water. Upon hearing the song 'Marea (We lost dancing)' (2021) by Fred Again and The Blessed Madonna I was drawn in by the collective loss in the lyrics but the hope that 'what comes next will be marvellous'. Reading about the song ind out Marea is actually the name of a friend of the artist Fred Again, he describes this Palestinian woman as a 'rave shaman'. My mistranslation of Marea not as a person but meaning a tide is a common theme for me when reading or listening, this duel translation i now have of storytelling and tide deepens the connection to my work around the subjects I am addressing such as loss, longing and personal narratives of intimacy and fleeting connections as a queer person"
Two sculptural elements are illuminated by roaming spot lights revealing parts of the installation one by one, the works wait in the darkness to be found and shine under the light, creating a fleeting connection gone as quickly as it arrived.
A pulsing sonar boom fills the space and three sound works have been translated into Welsh, working with artist Gwen Davenport. The rhythm of the Welsh language will punctuate lyrical quotes in English creating a dual translation which will play over each other in the gallery. Layering over the sculptural objects within the show.
Will Hughes is a Multi-Disciplinary artist and a studio holder at The Auxiliary in Middlesbrough. Their work is driven by lived experiences as a queer person. Mixing pop culture references with material language to construct moments. They wish to seduce the viewer through often using repetitive mechanical movement, the use of glossy/shiny surfaces and the lens of glamour as a means of storytelling.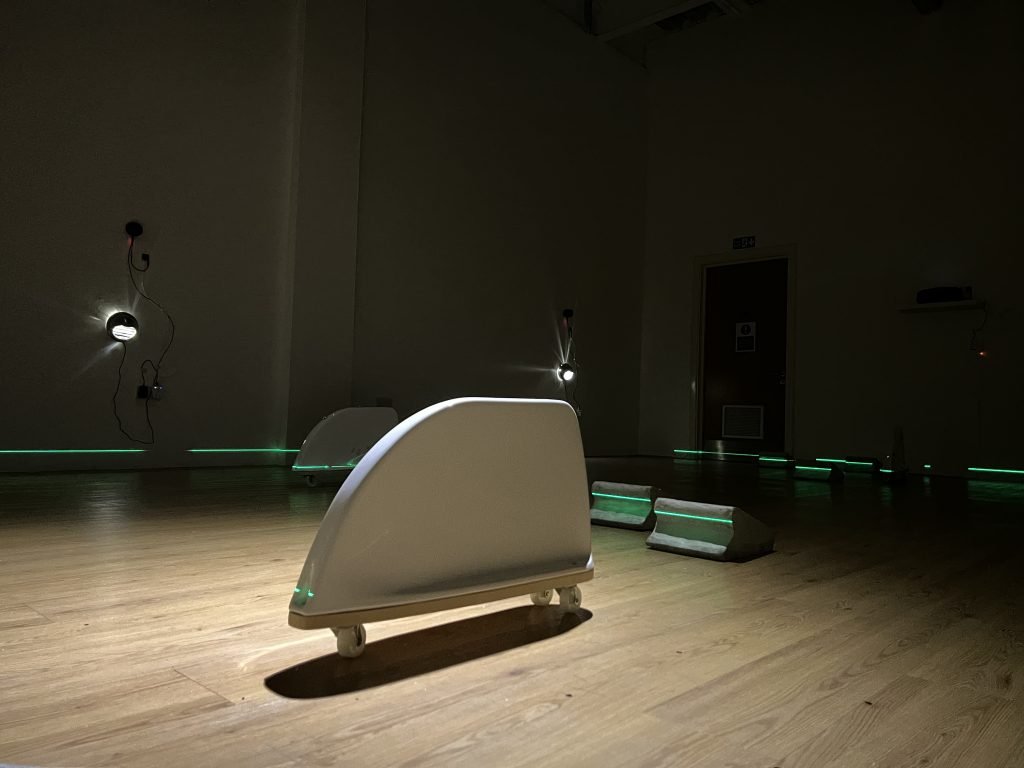 HOME AND AWAY 
Please join us for a Home & Away talk online Artist talk,
Will Hughes in conversation with Natasha MacVoy Feb 10th 7:30pm Via Zoom book your link here –
We will be celebrating the exhibition with two events;
Drinks on April 1st, 2022, at 5-7pm, and Coffee & Buns on Saturday April 2nd, 12-5pm
Listen here to an interview with Will Hughes with questions from Anja Stenina, or read the text below.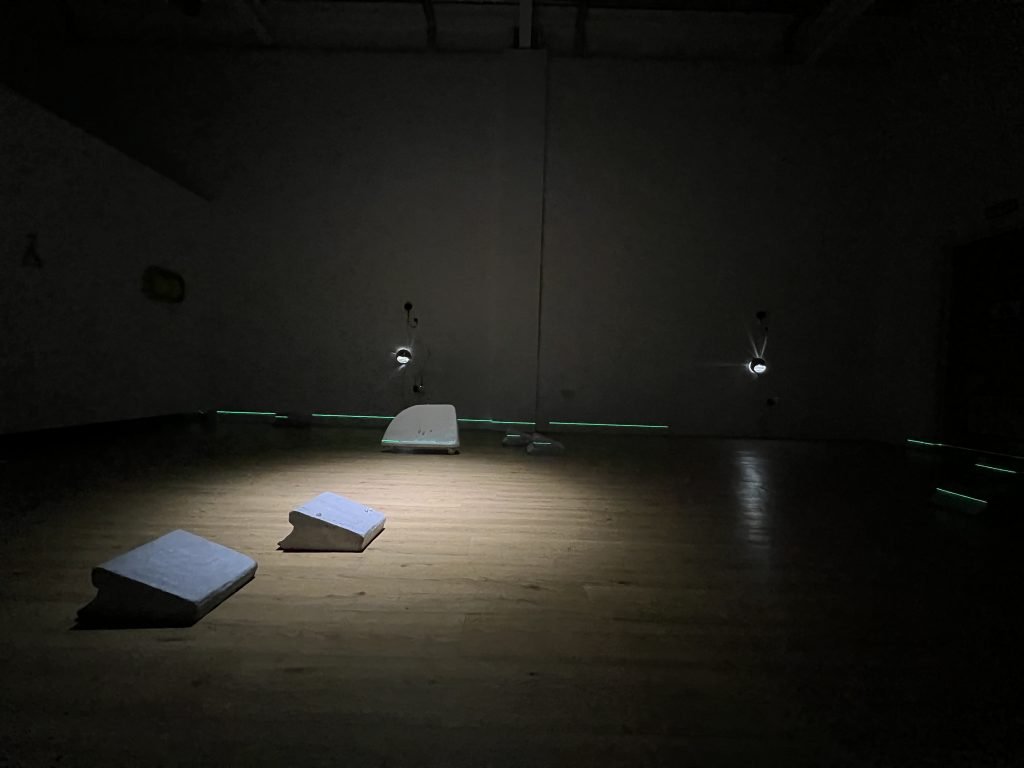 'Marea' An Installation by Will Hughes, 2022.
1. What are three keywords that would describe your practice?
Surface, Glimpse, Seduction
2. Who has had an influence on your practice? Is there a favourite quote?
'You can be too boring, but you can never be too seductive.' (Donatella Versace)
I've always been into fashion and I think it was the show Ugly Betty that really got me into it. The characters were overblown to many, but there really are these huge personalities in fashion, my favorite being Donatella. Versace has such a lineage of glamour and seduction with the Versace sheer green scarf dress pop star J Lo wore to the Grammys in 2000 launching google images.
3. What are the obstacles you face in the production of your art practice?
I would say that the biggest obstacle like with most people is money. I now work 5 days a week at B&Q designing peoples kitchens and bathrooms, dreaming of the day I will be able to afford to buy my own place and design my own dream kitchen with lots and lots of stainless steel!!!. Money would give me time to work more on my practice and invest in materials. Having said this, I am resourceful having grown up in a working-class household where money was a struggle for my mum when we were at home, but my mum always found a way to provide for us what we needed. I have taken this into my adult life within my practice and personal life investing in objects or materials I really need, spending money with a sustainable and ethical mindset, not being a hoarder and reusing where I can. I often use ready-mades within my work, and I feel this has a direct relationship with my financial position and sustainable approach to making. Some things don't need to be remade; they tell a story better in their authenticity than when remade anew.
4. To whom do you go for help when you hit a block or have difficulties in your creative process?
I am quite independent when it comes to making, I let things sit in my head and then write a few notes on my phone, then draw it out, to semi set the idea. This allows me to take stock of what I want to do, then think about materials and surfaces. What am I trying to say with this work? etc. The people I most look to are my friends Abi Charlesworth and Kelsey Cruz-Martin who I went to uni at Bath School of Art with and we share a passion for materials and process. I often send them images over Instagram to dissect and give feedback on. I also ask my partner Robbie O'Keeffe as we live together and share a studio at the Auxiliary in Middlesbrough.
5. In your creative process, do you look into research outside of the art world?
My research is very wide, nothing is off-limits from pop music to the toilet roll holders in public bathrooms. My eye is always drawn to design and lyrics. I do look at a lot of art on Instagram but my fav place to view art is in a gallery in the flesh. Often, I'm watching something and take screenshots of buildings or people because something has caught my eye and often it's because something is shiny. I'm a bit of a magpie in that respect. Music is a huge part of my practice and is a field I look to for helping me contextualise not just my art, but also my life. The lyrics act like a biography sometimes for me, allowing myself to build a narrative into the works which work on a universal level but also a deeply personal one. My favourite place to listen to music is in the car where I can sing as loud as I like. There is something about driving at speed and being absorbed into music, it's life-affirming.
6. Can you tell me about why you picked the title Marea for this exhibition
Translated from Italian or Spanish, 'Marea' means the tide; the movement of a body of water. Upon hearing the song 'Marea' (We lost dancing)' by Fred Again and The Blessed Madonna (2021) I was drawn in by the collective loss in the lyrics, but also the hope that 'what comes next will be marvellous'. Upon reading about the song, I found out that Marea is actually the name of a friend of the singer Fred Again. He describes this Palestinian woman as a 'rave shaman' (Fred Again.., 2021) and says 'Her ability to tell stories and share things has always been a particularly beautiful part of her beautiful mind' (Fred Again.., 2021). My mistranslation of Marea, not as a person but meaning the tide, is a common theme for me mistranslating when reading or listening; this dual translation i now have of storytelling and tide deepens the connection to the work around the subjects I'm addressing such as loss, longing and personal narratives of
intimacy. Marea will be the title of the installation.
7. Could you tell me a bit more about the role of lighting in your work? Was it influenced by contemporary artists?
Lighting has always been important to my practice even when I was doing my BA I was experimenting with tube lights as a way to cast a feeling with the use of light, a not physical entity that surrounds us. Within this show, I focus on the importance of lighting within
the installation, how it can be deployed to facilitate an intimate moment and accentuate
the work, how the lighting can be used to make the passive viewer an active participant. The roaming light within this installation actuates the potential movement of the sculptures which, although static, have a wave shape and wheels. To the fin-like forms of Well, somebody told me you had a boyfriend, Who looked like a girlfriend, That I had in February of last year (2019-21).
I was definitely influenced by other contemporary artists with the use of lighting most prominently this was with the work Light Sentence (Hatoum, 1992) by Mona Hatoum, in this installation the light rotates in the centre of the installation, casting vast shadows which rotate around the space in a linear way, giving the impression of time moving within the space. With the light in my installation, this forward movement of time is not present, the pattern is non-linear and not sequential. The logical order is challenged and disobeyed. By using this lighting effect, the affect is to create a feeling of loss and looking, which the viewer will experience while contemplating the work. I was also influenced heavily by the curation of Ryan Gander at Tokyo Opera City Art Gallery of works from their collection, instead of his solo show which has been pushed back due to Covid-19. The exhibition is titled All our stories are incomplete… Colours of the imagination. The most fascinating thing about this show is the lighting; the works are spot-lit to appear like the viewer is seeing the 'Museum collection by torch light' (Gander,2021). The affect of this is to create a playful, romantic, and searching feel to the exhibition, one which takes you back to childhood, including playing with a torch casting shadows and illuminating objects from the
Darkness.
8. This work was originally shown in Newcastle for your Master's show, why did you decide to show it again here in Swansea with us?
I was talking to my friend and artist Tash MacVoy the other day and we discussed how objects evolve over time and ideas change and move with the times. Within this, I see my works not fixed but fluid, able to adapt and change to new scenarios and ideas I was not thinking about at the time of making. For this show in Swansea, I am taking an installation I showed for my MFA show at Baltic 39 and replacing some parts to better realise my vision. At the time I used a red laser level which interacted with visitors as they walked around the space tracking their movements like sonar, for the show at GS Artists I am now using a green laser level to better represent the idea of a sonar from the submarine movies I really enjoy, most recently I loved the film Greyhound with Tom Hanks in the lead role, telling the story of a transatlantic convoy crossing during world war 2. With any submarine film, the green glow of the sonar screen is very prevalent in the drama and suspense of the film, when a blip arrears a 'contact' has been made, the viewer in the gallery walking through the space is the 'contact' in this exhibition.
9. Is your lighting plan attempting to provoke the viewer? What influenced the tone of your lighting language?
Within the installation you are allowed to drift with the light, explore the works much more in-depth and offer the chance to fill in all the blanks. The spotlight is less a light in the face by a police officer more a beacon in the night, a searchlight which does not linger. This work was made before and during the pandemic, so the tone of the lighting is driven by a want for connection. This is especially seen in the use of the laser which tracks the viewer around the gallery.
The roaming spotlight has a romance for me when thinking about clubbing but also more visually makes me think of the song Outside (2006) by George Michael and that is why the waves are named let's go outside, let's go outside, in the moonshine (Hughes, 2021). These lyrics are taken from the song which reflects on his arrest for soliciting in a public bathroom in LA. The music video glamorises the situation with sexy costuming, sleek dance moves and a high budget production. Helicopters use searchlights looking for people engaged in the act, in my own work the spotlight acts more like a club light traversing the space never stopping or fixing on one person or object just gently searches longingly through the darkness. In Outside (2006) the light is dangerous and is controlled by a sentience who has an agenda. My light is not controlled by sentience; it moves freely of its own accord and does not have an agenda. It is aloof of everything and everyone, it silently searches the gallery. In this exhibition you do not hide from the light you wait to be illuminated by it, to be validated.
10. How do your sculptures connect to the pop culture references in your work? Why the wave form?
These concrete cast wave forms are derived from the form of a coppice stone which is used to top the walls of the street I lived on in Newcastle. The form is wave-like and makes me think of rolling waves at sea and the feeling of endlessness, continuity, longing and depth that the sea possesses. The isolation of space but also the continual movement of the tide and movement in time. The title is taken from Outside by George Michael. The song's video shows an arrest in a public bathroom for soliciting an act of cruising sometimes carried out by queer people in public bathrooms. I thought the lines 'Let's go outside (let's go outside), In the moonshine' alluded to the act of public sex and intimacy but also felt ambiguous mixed with the coldness and grey of the satin surface of the concrete waves, the pleasure of hearing the waves lap at the shore at night with the acts of public sex often happening under the cover of darkness. Waves have been on my mind both emotionally and in the solace, I seek when I go to see the sea along the North East coast. I made a template from one of these bricks and made a mould to cast from in my studio. I
then stuck these together with more plaster and sanded them down to be smooth. Next, I cast this block using silicone so that I can remake this shape many times, The surface of the bricks are concrete and coated in olive oil soap to give a satin shine to the surface.
11.What is the meaning behind ceramic sculptures? Do they refer to the popular culture or your life, or both?
I started making this work in 2019 and I exhibited it in a show but unfortunately, the work was damaged. This gave me the opportunity to rethink the materials. Before the barnacles were made from plaster and now they are made from pewter which shines and has greater detail. The lower portion was green plastic and I decided this was too acidic for the work I wanted something more
natural. smaller wheels with a lower centre of gravity that are white instead of grey make the work hover just off the ground but remain sturdy.
This song 'Somebody told me' by the killers was a huge part of my life in my early teenage years, I remember listening to it in the car with my mum and my brother and when my brother played on the PlayStation I would be singing it. The lyrics really spoke to me, I also think a lot about the performance of a paso doble where this song was used on strictly come dancing. The drama of the dance matched perfectly with the thundering guitar and booming vocals. The lyrics questioning the gender of a person who looks like someone they dated, stayed in my head, I have always struggled with my gender identity not fitting in with the 'guys' i cringe when people call me sir as I have not felt at home with this identity. The questioning in the lyrics to the gender of a person fits with the work's narrative of questioning sex and the sexualisation of an object such as the urinal divider something only found in traditional gendered bathrooms of men.
12. Can you tell me more about the textual component of your work, what inspired your text? Did you always love writing?
In the texts I have been writing, they are very much linked to my own life, personal experiences, intimate moments and my relationship with materials as well, often with a seductive, sensual side which is played out with song lyrics and culturally shared moments from tv or film. This is the language of the working class, not academic journals. I always try to pair back the texts as much as I can spending weeks, simplifying the works to be short and concise. I like to use lyrical lines which stick in your head because of the rhythm in the construction. Using language located within different contexts builds on the meanings within the
works mixed with miss spellings and pop culture points which underpin the importance of popular culture to me and my work. Pop culture offers a glimpse at the other side of life, one that most working-class people strive to be a part of, the works riff off this want for a better existence and our own culture.
13. And finally, my last question would be: What is the Music inspiring you at the moment?
Sometimes I listen to music and want to make a work about what's going on in those lyrics but most of the time my ideas come first from my own experiences within my personal life or wider context and then the musical aspect joins at someplace after this point when I recognise a link with what's going on in my head. This sometimes does not happen until the work is finished and then I see the connection and use those lyrics to title the work, this helps guide the viewer in a direction to understand the work from my position, I suppose it's an emotional point of connection I strive for. In the early stages, I'm mainly focused on visuals which can come from architecture, fashion, people or materials I see and I feel poses the surface I'm looking for and that hint at an emotion or state of mind.
Right now, I'm listening to many different artists but a few standouts are Doja Cat, the song Stranger by Tova Lo, London Grammar and a musician I was introduced recently to by Garth Gratrix called Self Esteem. Spliced into all this are lots of my favourite older tunes which always stay with me from Madonna to Celine Dion, Lady Gaga, Cardi B and the list goes on.

Thank you, Will. This was a fascinating journey into your practice.
Will Hughes with Anja Stenina, GS Artists, 31 January 2022