By Jeremy Gluck for GS Artists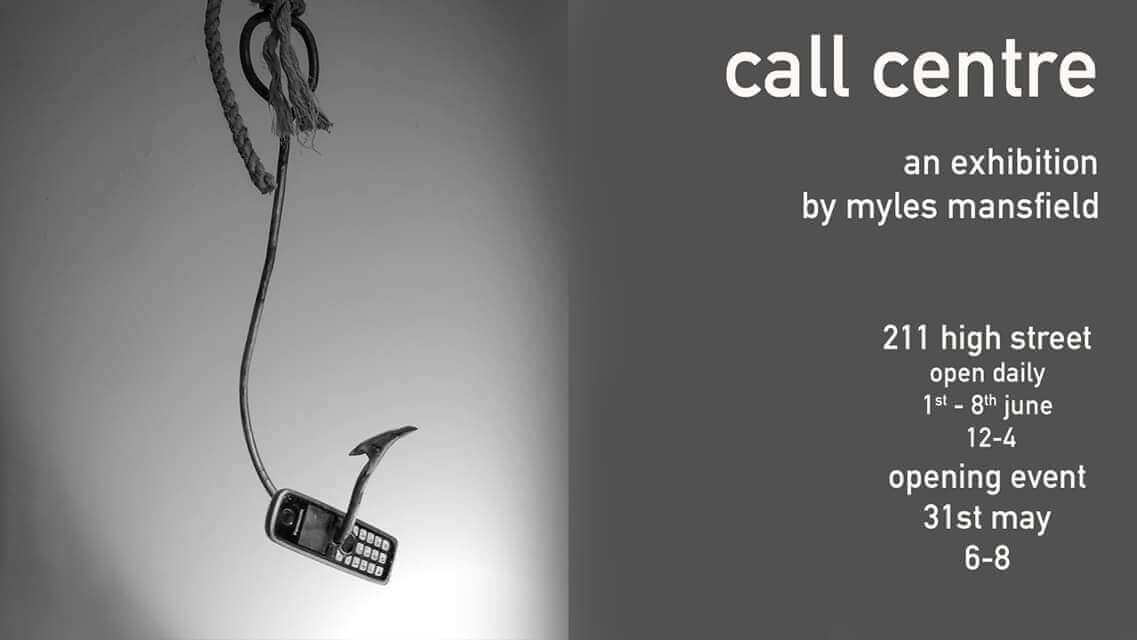 Call Centre, Myles Mansfield's new show, opened on May 31st at 211 High Street Swansea. A highly original and inventive show curated by Myles and Benesek Monk, featuring kinetic, interactive and steel sculptures and painting, its "analogue art" approach is at once retro-futuristic and removed from time, a peculiar amalgam of very human concerns and primitivist alien resonances. Evoking the existential challenges of high technology via low technology making, it is funny and fascinating in equal measure.
Myles, an alumni of Swansea College of Art, has exhibited with and been a significant part of GS Artists. Recently he did residency at Elysium Gallery. Known for his meshing of masterpieces with mixed media, Call Centre continues this work in the form of old telephone books overpainted with features of Old Masters' major works.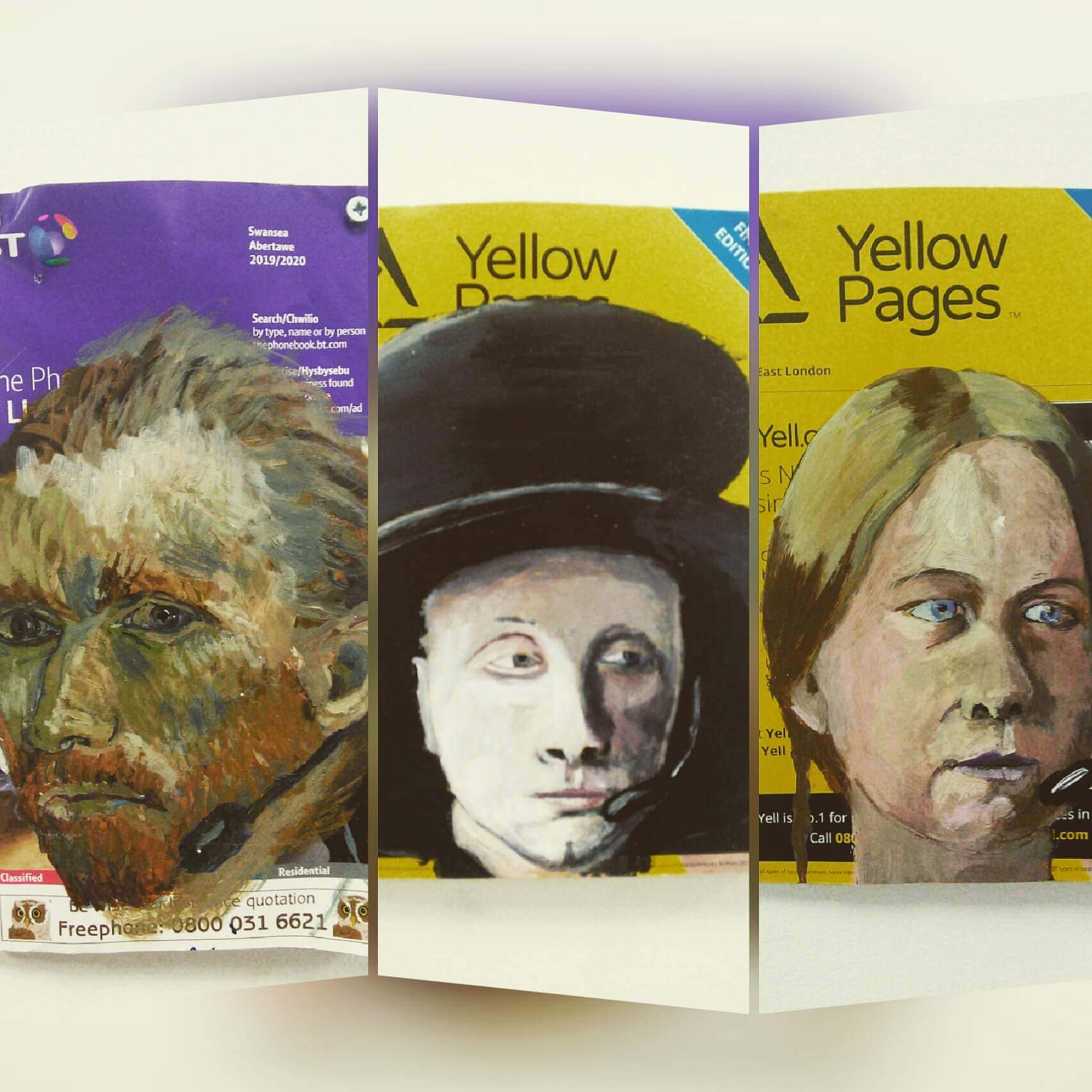 Elsewhere, an automaton merrily smashes a keyboard, kept company by an ungainly but elegant sculpture constructed from diverse bicycle parts and other mechanical elements. Strangely but perhaps inevitably, the automaton's robotic actions, triggered by pressure pads, assumes a meditative quality, its repetitive stress-less self-absorption a contrast to the often angsty tech' engagements of the human beings.
GS Artists asked Myles about Call Centre, its background and propitious inventiveness.
1. What was the genesis of Call Centre?
Call Centre came about because of the residency that was offered to me by Elysium. I felt that the residency should be used to step away from my normal practice and explore something new. Site-responsive work interests me and I thought that the fact that the studios were a call centre in the past, was a good starting point.
2. To me, Call Centre could be called "analogue" art. As with your paintings, it seems to play with but also honours the canon. Yet it has a very serious subtext?
As in all of my work, I try to ensure that it is accessible, but has a deeper level of meaning, that has cultural significance and can be seen to fit the contemporary zeitgeist.
3. The performative aspects of the show are especially compelling. What gave you the motivation to create these?
I believe that contemporary art has issues with accessibility and it is important to me that whatever I create can be appreciated by the layman. I felt when setting up the show that theatre was needed. The Deleuzian concept of the "encounter" is of particular importance to me when creating work, a priority for me in the design stage of my work.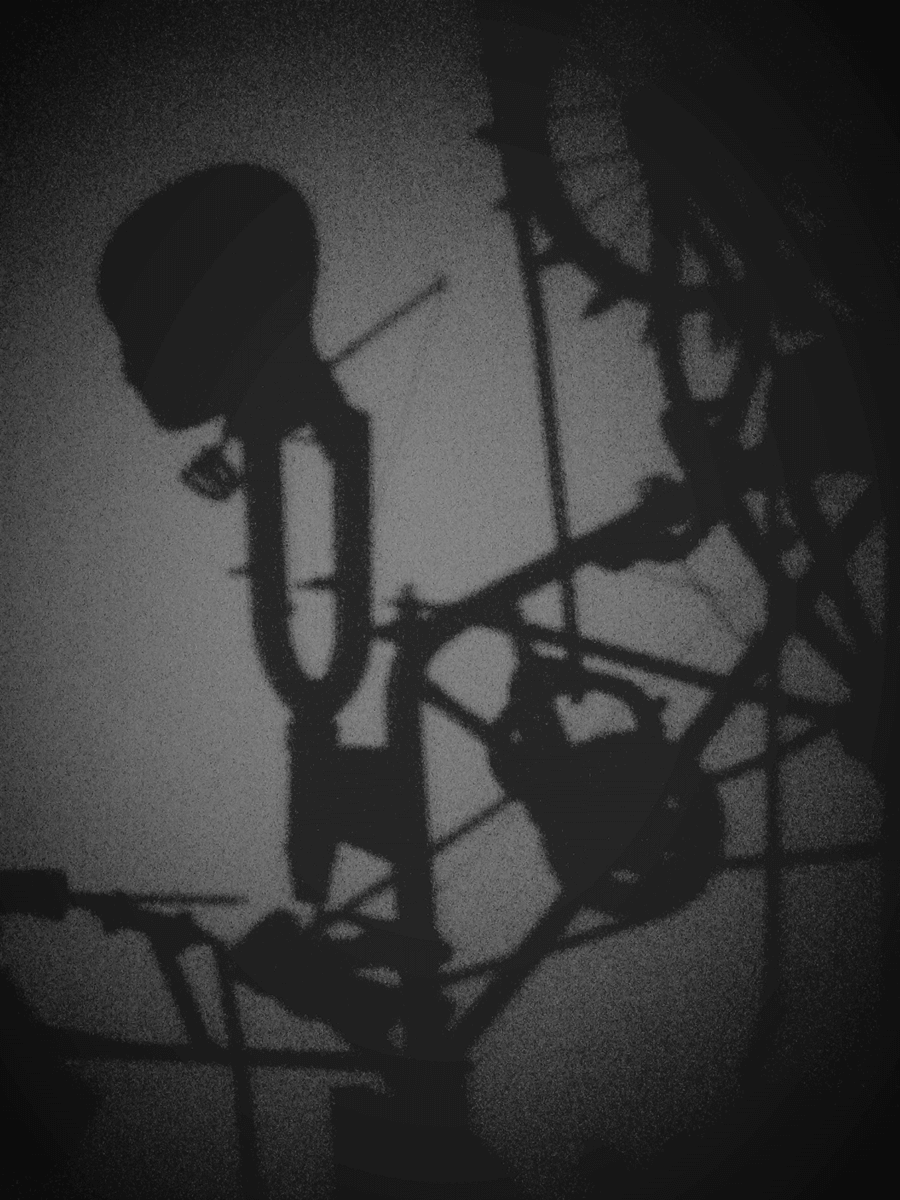 4. Call Centre is a tough act to follow? What do you have in mind to make next?
Not sure, but I am blessed with ideas every day, so I'm hopeful that something significantly interesting for me to pursue will come up.
5. What has your involvement with GS Artists been? You've exhibited at the gallery. In this and any other way, how has your involvement with GS Artists been part of your practice?
During the planning for our first group show at Galerie Simpson, Jane Simpson said she wanted me to work within the space and make new stuff. This scared the hell out of me at first, but has completely changed the way I view my practice: I love the challenge of coming into a space and stepping away from my usual work. It's scary but invigorating and often feeds back into my main practice. We did two group shows like this and both were really fun and made me grow and mature quite rapidly as an artist.
6. As with much work embedded in and drawing heavily on the past, yours is retro-futuristic, equally calling to the future?
I have a theory that when we appropriate objects and art from the past, and make new work with them, it becomes a way of assimilating past culture with contemporary culture, by keeping it relevant. I think recontextualisation of historical art is a critical part of accepting and coming to terms with the fast changing world that we now inhabit.